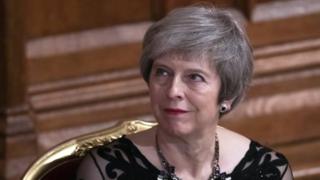 We are now entering the Brexit "endgame", Prime Minister Theresa May tells us. What does she mean?
The basics: A reminder
The UK is due to leave the European Union at 11pm on Friday 29 March, 2019. The reason the UK is leaving is because people voted by 51.9% to 48.1% for Leave in the 2016 referendum. The UK and the EU have spent more than a year trying to agree on how the divorce – as it's often called – will work in practice and what post-Brexit relations will look like. A deal has to agreed by negotiators but also by Theresa May's cabinet, then MPs and, finally, by the 27 other EU member states.
Will there really be a deal this week?
Well, ministers would not be saying things like "we are within touching distance" if they did not think it was possible. Officials on both sides have been burning the midnight oil in Brussels, to get a form words they can agree on.
Why the references to Wednesday night?
Any hopes of an EU summit to sign off on a withdrawal agreement this month will apparently be hit if the talks go on much longer – there will not be enough time to set up a meeting of the 28 leaders.
The next possible date for a meeting of EU leaders is in December, which could result in the Commons vote on any deal being delayed until after Christmas.
With uncertainty over whether MPs would back a deal, missing this week's deadline would increase the chances of the UK leaving without one. The UK government would then step up no-deal preparations and spending.
What are they still arguing about in Brussels?
The sticking point over the Irish border remains. Both sides are committed to avoiding a return to a visible Northern Ireland border with border posts and checks. They believe that bringing them back would put the peace process at risk.
But the two sides have yet to agree how they can guarantee this – with the EU insisting on a "backstop" arrangement which will kick in to avoid a physical border if whatever future trade deal the UK and EU agree does not manage to maintain the current border arrangements.
What about a trade deal?
The two sides are hoping to agree a rough outline of a trade deal to be signed off at the same time as the withdrawal agreement. If all goes as planned, the details will be hammered out after the UK leaves.
So what happens next?
Even if she does get her top team to sign off on a Brexit withdrawal agreement, Theresa May faces the fight of her life to get MPs to vote for it.
She does not have a Commons majority and many MPs on her own side – as well as Labour and the other opposition parties – are sceptical about her Brexit plans, or openly hostile to them.
If the only choice presented to MPs is her plan or a no-deal scenario it could frighten enough waverers into backing her. Labour and some Tories are trying to ensure other options are put to the vote.
If she loses the vote, we enter uncharted territory. She may seek to renegotiate with the EU but most expect her time in No 10 to end. There could be a general election and/or a new prime minister.
Some Tory and Labour MPs hope she will head that off by postponing Brexit day and calling another referendum, something she has consistently ruled out.
A brief guide to where we are with Brexit}