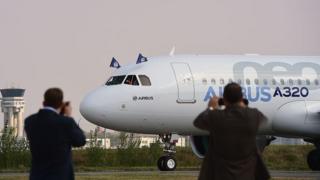 Profits at Airbus, Europe's largest aerospace company, more than doubled in the second quarter despite a sputtering start to 2018.
Bottlenecks of undelivered planes began to ease, while costs relating to its newest big jet, the A350, were down.
After a series of engine manufacturing issues caused delays, chief executive Tom Enders said deliveries had "picked up", but "challenges remain".
The results sent Airbus shares to a new record high of almost €110 in Paris.
The company has faced a backlog of up to 100 A320neo jets parked outside factories without their engines.
Many of the engines, which have been beset by glitches, are made by US-based manufacturer Pratt & Whitney.
Earlier this month, Airbus said the firm was "catching up" and that there would be further improvement in the second half of the year.
Airbus, which is based in Toulouse, said adjusted profits before interest and other charges rose 110% to €1.15bn (£1.02bn) in the first half of 2018.
However, net profit for the six months fell 55% to €496m.
The planemaker also reported orders and commitments for 431 aircraft during July's Farnborough Airshow, which are yet to be reflected in their earnings figures.
Shares in Airbus, which were trading at about €75 a year ago, were 4.6% higher in morning trading, valuing the company at €86bn.
Airbus shares soar on higher profits