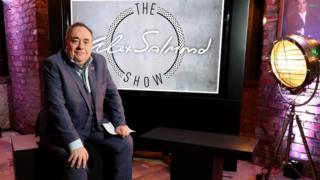 The Alex Salmond Show on Kremlin-backed TV channel RT breached broadcasting rules, media watchdog Ofcom has ruled.
The regulator investigated "audience tweets" used in the former Scottish first minister's show on the Russian broadcaster, which aired last year.
It found they were presented as having come from viewers, but most were posted by people working on the programme.
Production company Slàinte Media said there had been "no agenda and no attempt to mislead".
In its ruling following the single complaint made about the broadcast, the watchdog said: "Ofcom considered that viewers would have been under the impression that the four questions quoted by Mr Salmond had originated from members of the public wholly unconnected with the programme or with him, when this was not, in fact, the case.
"The failure to disclose this information meant that viewers were misled. Because viewer trust in this current affairs programme would have been undermined, we considered that this was materially misleading."
'There was no agenda'
The inaugural episode of the Alex Salmond Show, which is broadcast on Russian state-funded broadcaster RT, featured an interview with ousted Catalan President Carles Puigdemont.
It also included messages which former SNP MP Mr Salmond said had been selected from an "avalanche of tweets and emails".
One was labelled as being from a Twitter account which does not exist – something Slàinte Media said at the time was due to a "transcription error" in a misspelled username.
Another tweet was only published after the show had aired, which the company said had been emailed in and only posted publicly by its author after he had seen it broadcast.
Slàinte Media – which is run by Mr Salmond and fellow former SNP MP Tasmina Ahmed-Sheikh – said a further tweet from series director Luisa St John had been "used for the filmed rehearsal and left in the final programme cut in a simple error".
In its defence, the programme makers told Ofcom: "There was no agenda and no attempt to mislead nor can it be seriously argued that there was and the fact that only a single complaint was made demonstrated there was no harm or offence, particularly given the substantial prior publicity and the fact that the whole basis of that single complaint was clearly misconceived."
Alex Salmond Show tweets misled audience, says watchdog Ofcom}