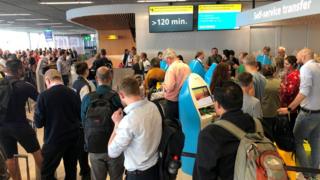 Amsterdam's Schiphol airport says its fuel supply system has now restarted, hours after a fault led to major disruption.
At least 70 planes were grounded, and others diverted, when the airport's refuelling facility stopped working at around 13:00 (11:00 GMT) on Wednesday.
Thousands of passengers were stranded at the airport, many tweeting about their difficulties in rebooking.
It is not clear when the disruption will be fully over.
Schiphol airport had earlier warned it could be "long into the evening" before things returned to normal.
It later said that flights had restarted:
But it also urged travellers to contact their airlines.
The company supplying the fuel system, Aircraft Fuel Supply, said the failure of the system was not due to the current heatwave, the Dutch newspaper De Volkskrant reports.
The fault meant that only planes that had enough fuel on board were able to take off from the airport.
As well as the 70 grounded planes, passengers on a further 11 recently landed planes were unable to immediately disembark because there was no gate available, De Volkskrant reports.
Almost 180 flights had been cancelled by airlines, Schiphol said.
One British passenger, Michael Lowery, was at Schiphol waiting to catch his flight back to Norwich when the outage occurred. He told the BBC there was a four-hour queue for the airline KLM's information desk.
"It's been really awful service at the airport," he said. "They can't control the situation at all.
"The queue's stretching across the terminal and that's just for information. They won't book me a hotel unless I wait in the queue. So I either have to book one myself or wait four hours in a queue to maybe get one."
July is one of the busiest periods for the airport as people fly off for their summer holidays.
Have you been affected by the disruption at Schiphol airport? Get in touch by emailing haveyoursay@bbc.co.uk.
You can also contact us in the following ways:
Amsterdam's Schiphol suffers major disruption over fuel supply