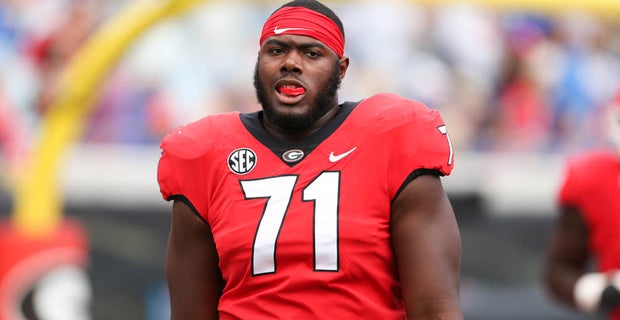 Heading into his junior season, Georgia offensive lineman Andrew Thomas is considered by many to be a first-round pick should he elect to enter the 2020 NFL Draft. It appears that USA Today agrees, as the outlet named him the No. 1 offensive lineman in college football this week.
The top-tier NFL draft prospect has started 28 games across his first two seasons, first at right tackle before shifting to the blind side in 2018. Thomas was a four-star recruit who has played like a five-star lineman in a conference typically unkind to teenagers in the trenches. As good as he's been, Thomas will take his game to another level as a junior.
An Associated Press Second-Team All-American selection last season, Thomas will likely be named by most publications as a preseason All-American, All-Conference, and an Outland Trophy Candidate after making 28 starts the past two seasons. As a true freshman, Thomas made 15 starts at right tackle, then, after Isaiah Wynn departed as a first-round pick in the 2018 NFL Draft, Thomas slid over and started 13 games at left tackle in 2018. At 6-foot-5, 320 pounds, Thomas is technically the lightweight, part of an offensive line that also features 6-4, 335-pound Solomon Kindley, 6-4, 330-pound Trey Hill, 6-6, 335-pound Ben Cleveland, and 6-7, 340-pound Isaiah Wilson.
"We just try to be physical, dominant,' Thomas told 247Sports in March. "We try to outhit our opponents every game."
Thomas played in 657 snaps last season, fifth among offensive players and fourth among offensive linemen. According to Pro Football Focus, Thomas graded out with an 80.6 overall, No. 13 among FBS offensive tackles, No. 10 among Power 5 offensive tackles, and No. 3 among SEC offensive tackles. He had a 79.5 pass-blocking grade on 314 snaps, allowing three sacks, three quarterback sacks, and five quarterback hurries, with one penalty. That grade was No. 74 among FBS offensive tackles, No. 43 among Power 5 offensive tackles, and No. 12 among SEC offensive tackles. Thomas graded out with a 76.6 run-blocking grade on 343 snaps, No. 16 among FBS offensive tackles, No. 10 among Power 5 offensive tackles, and No. 3 among SEC offensive tackles.
Georgia is once again favored to win the East division, return to the SEC Championship, and compete for a spot in the College Football Playoff with a likely preseason Top 5 ranking. The Bulldogs return 11 starters, five on offense and six on defense, from a Georgia team coming off an 11-3 season, having won the SEC East Division but falling just short of repeating as SEC Champions and suffering a 28-21 loss in the Allstate Sugar Bowl to Texas. Georgia is set to begin its season on the road against Vanderbilt on Aug. 31.
(What's next for the Bulldogs? Make sure you're in the loop — take a few moments to sign up for our FREE Bulldogs Newsletter!)