LUCKNOW: A day after being accorded a grand welcome, Congress general secretary and east UP in charge
Priyanka Gandhi
Vadra promptly got down to work and met party leaders and workers and sought details of their WhatsApp, twitter and other social media accounts, signalling that she intends to use the platform in a big way, as well as their caste and subcaste.
Soon after landing in the state capital on Tuesday morning, Priyanka remained huddled with senior leaders and office-bearers and later with party workers from various parliamentary constituencies in east UP. The parliamentary constituency-wise meetings began around 2pm.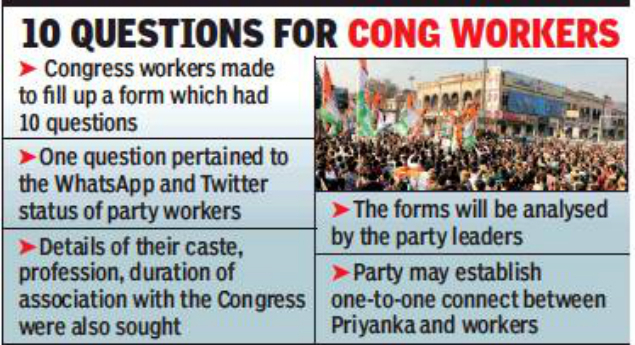 Party leaders and workers from Unnao, followed by Mohanlalganj, Kaushambi, Pratapgarh, Fatehpur and Allahabad met Priyanka initially. The meeting on Lucknow was held in two parts while the ones on Amethi and Rae Bareli were scheduled after dinner.
The elaborate discussions to spur the party's preparations for coming Lok Sabha elections with workers also involved submission of certain details in a form. The party workers were asked to share details of their WhatsApp, Twitter and their other social media accounts, along with their caste and sub-caste. The cadres were also asked to give suggestions for raising the party's winning prospects.
"While most workers from urban areas have social media presence, few from the countryside had not even heard about it though majority of them were using WhatsApp," said an insider.
Veterans are party's strength: Priyanka


The form also enquired about the duration of their association with the party. The section included questions like, How long have you been associated with the Congress?, Have you served on any post in party? and Have you ever contested elections for Congress?
Sources said that Priyanka's trusted lieutenant Dheeraj Srivastava was collecting the forms for analysis after Priyanka finishes meeting with representatives of all 42 parliamentary seats under her charge.
"Priyanka, who joined Twitter on Monday, plans to use social media in a big way for elections and establishing a personal connect with workers," said a senior leader. Sources said that besides Priyanka, only Dheeraj Srivastava was present in the meetings. The questions were detail-specific and stumped many leaders and workers. 'What is your polling station?' was one question that left many embarrassed.
"Questions like, How many voters are there in your gram sabha?, How many gram sabhas are there in your assembly segment? and How many votes did Congress get in 2014 Lok Sabha in your block? left many sweating," said one Konark Dixit from Mohanlalganj.
"The stress on detail was encouraging. It indicates that things are changing," said Siraj Wali Khan, former Lucknow district president.

Priyanka heard everyone and came across some emotional moments on meeting Matadeen, a third generation Congress leader from Gosainganj, Lucknow, who has been associated with Congress for past 45 years. The man was so overwhelmed on seeing her that he started crying. Priyanka consoled him by saying that this is the real strength of Congress.
Talking to TOI, Matadeen said, "I had prayed to God for this day. I couldn't control my tears when I saw her. It seemed Indira ji had come back. And when she recognised my efforts over the years, I felt like I have got Bharat Ratna."
Congress general secretary and west UP in charge, Jyotiraditya Scindia also met party workers from 11 constituencies. "His enquired about caste equations, presence of Congress, key issues in the constituency and deputed in charges for the seat," said Shashi Walia, district Congress president in Saharanpur.
Are you on WhatsApp, Twitter? Priyanka asks Congress workers in maiden meeting – Times of India