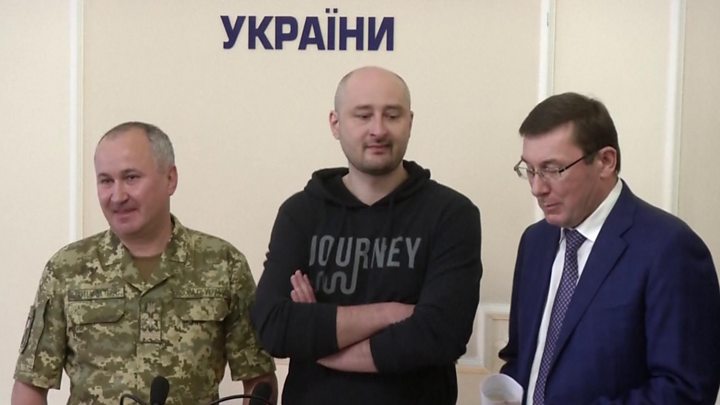 Ukraine staged the murder of a Russian dissident journalist in Kiev on Tuesday in what it said was a sting operation to foil a Russian assassination plot.
Arkady Babchenko sent shockwaves around the world when he arrived at a press conference on Wednesday, less than 24 hours after he was reported dead.
The head of Ukraine's security services, Vasyl Hrytsak, said the elaborate sting was set up to catch hitmen paid by Russian forces.
Police said they had made one arrest.
Babchenko's wife said that she had found him at the entrance to their apartment block with bullet wounds in his back, and he was reported to have died in an ambulance on the way to hospital.
There were gasps and applause as the journalist entered the room for the press conference on Wednesday. He thanked the Ukrainian security services for saving his life and said he had no choice but to take part.
"I did my job. I'm still alive," Babchenko said.
"I have buried many friends and colleagues many times and I know the sickening feeling," he added. "I am sorry you had to experience it. But there was no other way."
What do we know about the operation?
Babchenko said he was informed a month ago about an alleged Russian plot to kill him. He said he was in constant contact with Ukrainian security services over the course of the past month, adding that he thought they had been planning the operation for up to two months.
Mr Hrytsak said the operation began after Ukrainian security services were informed about a plot to kill Babchenko.
He said Russian security forces had recruited a Ukrainian citizen to find hitmen within Ukraine. He said the citizen approached several acquaintances, including war veterans, offering $30,000 for the contract killing, one of whom revealed the plot to the security services.
They then informed Babchenko, apparently determining that the only way to reveal the plotters was to stage a fake hit.
It was not clear if Babchenko's wife Olechka was aware that his death had been faked. He apologised to her at the press conference. "Olechka, I am terribly sorry," he said, "but there were no other options".
Ukrainian police said they had made one arrest in connection with the sting.
The reaction
Russian foreign ministry spokeswoman Maria Zakharova said in a statement that the staged murder was "a masquerade" done for "propagandistic effect".
She said Russia was happy that Babchenko was alive. "I wish it were always like that," she said.
Ukrainian President Petro Poroshenko said the country would offer protection to Babchenko. "It is unlikely that Moscow will calm down. I've given an order to provide Arkady and his family with protection," he said on Twitter.
The Radio Free Europe/Radio Liberty network posted video footage of Babchenko's colleagues reacting to news that he was alive.
Who is Arkady Babchenko?
While studying law in Moscow aged 18, Babchenko was conscripted into the Russian army and served during the Chechen wars from 1994 to 2000.
His memoir, One Soldier's War, chronicled his experiences of the conflict, which claimed the lives of tens of thousands on both sides.
Babchenko went on to became a journalist and a high-profile critic of the Kremlin. He stood in unofficial elections organised by the opposition in 2012 and denounced Russia's actions in Syria and eastern Ukraine.
In December 2016, Babchenko wrote a Facebook post (in Russian) about a crashed Tu-154 transport plane, which went into the Black Sea while carrying a Red Army choir to Syria.
He claimed this Facebook post, in which he described Russia as an "aggressor", led to death threats and abuse from the Russian state. He wrote in a piece for The Guardian that it forced him to leave "a country I no longer feel safe in".
Babchenko also wrote for the BBC, reporting from the scene about a Ukrainian army helicopter that was shot down in the east of the country in 2014.
Kiev has in recent years seen a number of deadly attacks on high-profile figures, including journalists and politicians. Most of them were vocal critics of the Kremlin.
The leading Belarusian journalist and Kremlin critic, Pavel Sheremet, was killed by a car bomb in Kiev in July 2016.
Another car bomb killed Ukrainian military intelligence officer Col Maxim Shapoval in June 2017 in what the Ukrainian authorities called a terrorist act.
In March of the same year, former Russian MP Denis Voronenkov was shot dead outside a hotel in Kiev.
Arkady Babchenko: Ukraine staged fake murder of journalist