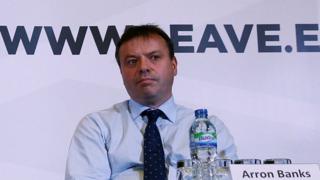 The National Crime Agency is investigating Arron Banks and his Leave.EU campaign for alleged offences committed at the 2016 EU referendum.
Mr Banks and another senior campaign figure, Liz Bilney, were referred to the agency by the Electoral Commission.
The watchdog said it suspected money given to the campaign came "from impermissible sources".
Mr Banks said he had received no foreign money, no Russian money and he was a UK taxpayer, Reuters reports.
The news agency also reported Mr Banks as welcoming the investigation "as an opportunity to clear up the matter".
The Electoral Commission investigation focused on £2m reported to have been loaned to Better for the Country, which ran Leave.EU, by Mr Banks and his group of insurance companies,
It also examined a further £6m reported to have been given to the organisation, on behalf of Leave.EU, by Mr Banks alone.
The Commission's legal chief, Bob Posner said: "We have reasonable grounds to suspect money given to Better for the Country came from impermissible sources and that Mr Banks and Ms Bilney, the responsible person for Leave.EU, knowingly concealed the true circumstances under which this money was provided.
"This is significant because at least £2.9m of this money was used to fund referendum spending and donations during the regulated period of the EU referendum.
"Our investigation has unveiled evidence that suggests criminal offences have been committed which fall beyond the remit of the Commission.
"This is why we have handed our evidence to the NCA to allow them to investigate and take any appropriate law enforcement action. This is now a criminal investigation."
He said the financial transactions investigated by the Commission had investigated included companies incorporated in Gibraltar and the Isle of Man, which were "beyond the reach" of the watchdog.
The National Crime Agency, which is able to investigate across international borders, said electoral law offences would "not routinely fall" within its remit.
But it added: "The nature of the necessary inquiries and the potential for offences to have been committed other than under electoral law lead us to consider an NCA investigation appropriate in this instance.
"This is now a live investigation, and we are unable to discuss any operational detail."
Leave.EU was a separate campaign to the official Vote Leave organisation.
Arron Banks faces Brexit referendum spending probe}