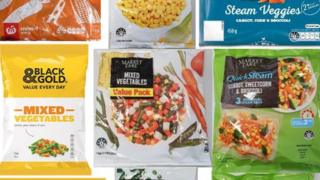 Australia has become caught up in a European food scare, with supermarkets across the country recalling bags of frozen vegetables over fears they may contain a deadly bacteria.
It follows similar moves in Britain last week over vegetable products from supplier Greenyard Frozen.
Food authorities said the vegetables could carry listeria monocytogenes which can cause listeriosis.
Listeria in tainted melon killed seven people in Australia earlier this year.
Food Standards Australia and New Zealand have recalled nine products – a mix of corn, carrot, pea and broccoli ranges – that originated from Britain, Belgium and Hungary.
They were sold in supermarket chains Woolworths, Aldi and IGA.
"The products affected contain a particularly dangerous strain of listeria and are being recalled as a precautionary measure to ensure consumers are protected," chief executive Peter May said.
He said cooking the vegetables should kill the bacteria, but warned against eating undefrosted or undercooked frozen vegetables.
What is listeria?
The listeria bacteria can develop into the rare but serious listeriosis illness.
It has symptoms that are similar to flu, including high temperature, muscle ache, sickness and diarrhoea.
It can be more serious for people with weakened immune systems and also the elderly, pregnant women and infants.
Australia and NZ recall frozen vegetables over listeria fears}