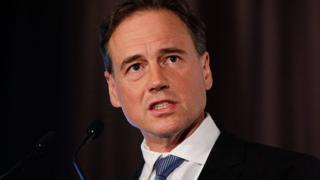 An Australian government minister has apologised for swearing repeatedly at the mayor of a Northern Territory town.
Health Minister Greg Hunt said he was wrong to use "strong language" during a private conversation with Katherine Mayor Fay Miller in December.
Ms Miller also accused him of wagging his finger in her face. She called his manner "misogynist", an assertion to which Mr Hunt has not responded.
The pair had been discussing funding arrangements for a local health scare.
During the conversation, Ms Miller said Mr Hunt's tone changed after she had asked him for more federal resources.
"I turned on a switch of some sort because he relocated his chair, pointing towards me," she told reporters on Thursday. She said Mr Hunt then swore at her and told her to "get over it".
"And then [he said] more sentences with rude words in them. I did not move because I was absolutely gobsmacked."
She added that the minister "sat back a little in his chair and said, 'I've heard you're feisty'."
Mr Hunt, sometimes discussed as a future leadership aspirant, said he "sincerely" regretted his language.
He said his apology should have come sooner.
"It was my fault and my responsibility," Mr Hunt told reporters on Thursday.
"I accept that and I think it is important for me to both repeat that I have apologised to the mayor but to repeat that apology publicly."
His apology came before Ms Miller accused him of misogyny.
'Misogyny' and Australian politics
In 2012, then Australian Prime Minister Julia Gillard famously accused her opposition counterpart, Tony Abbott, of misogyny in a speech in parliament.
It prompted the nation's leading dictionary to update its definition of the word from "hatred of women" to "entrenched prejudice against women".
"We decided that we had the basic definition, hatred of women, but that's not how misogyny has been used for about the last 20, 30 years, particularly in feminist language," Macquarie Dictionary editor Sue Butler said at the time.
The topic of the conversation between Mr Hunt and Ms Miller had been a recent leak of chemicals at an army base near Katherine.
The contamination, caused by toxic firefighting foam, sparked fears that water supplies in the town of about 11,000 people may have been compromised.
The Australian government set aside A$5.7m (£3.2m; $4.3m) in December for a community support package.
Australian minister Greg Hunt accused of misogyny}