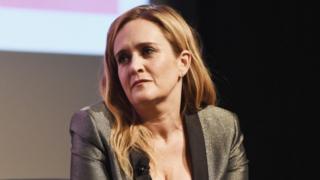 Comedian Samantha Bee has apologised after insulting Ivanka Trump with a vulgar phrase on her television show.
Bee also condemned President Donald Trump's daughter and White House adviser for not doing more on immigration policy.
The tirade has earned Bee comparisons to Roseanne Barr, whose sitcom was cancelled earlier this week after she sent out a racist tweet.
Bee apologised on Thursday, saying she "crossed a line" with her language.
An Instagram post by Ms Trump, which showed the White House adviser hugging her child, had sparked the rant.
"You know, Ivanka, that's a beautiful photo of you and your child, but let me just say, one mother to another, do something about your dad's immigration practices," Bee said on her TBS show Full Frontal With Samantha Bee, before launching into the vulgar phrase.
Bee's show, which combines comedy with political commentary, frequently uses profane language.
Several people expressed outrage at Bee's choice of words, and have accused the media of hypocrisy for not criticising the comedian, especially in the wake of Barr's own racist comments and quick downfall.
"This is disgusting. How is this acceptable? And how are we expected to take any of these publications seriously if they gleefully repost something like this at the same time they (rightfully) condemn @therealroseanne?" tweeted NBC News anchor Megyn Kelly.
White House press secretary Sarah Sanders said Bee's language was "vile and vicious".
"The collective silence by the left and its media allies is appalling. Her disgusting comments and show are not fit for broadcast, and executives at Time Warner and TBS must demonstrate that such explicit profanity about female members of this administration will not be condoned on its network," Ms Sanders said.
Backlash after Samantha Bee insults Ivanka Trump with vulgar phrase