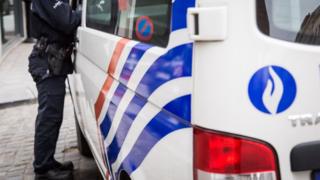 A two-year-old girl found with fatal injuries in Belgium after a police chase on Thursday died from a gunshot wound to the face, local media report.
The girl was in a van carrying some 30 Kurdish migrants which had been pursued for an hour in southern Belgium.
The chase, which began on the E42 motorway near the town of Namur, involved a scuffle, police said.
A police spokesman said they did not know whether the fatal shot had been fired by a police officer.
"The first report carried out by the emergency services has brought up an error: [it] established that the cause of death was due to a head injury," police spokesman Frederic Bariseau is quoted as saying by Belgian newspaper La Libre.
"This autopsy has shown us that a stray bullet was behind the girl's death," Mr Bariseau said, adding that the police could not confirm who had fired the bullet.
Belgian media reported that the girl, who was with her mother, had been held out of a van window apparently to keep the police at a distance.
Local prosecutors told the BBC they could not confirm the reports.
The chase began just outside Namur in the early hours of Thursday morning.
The van drove west for several kilometres, evading police. Eventually it collided with another vehicle near Mons and the girl was found.
It took 15 police cars and some 30 police to bring the incident to an end at around 03:00 (01:00 GMT) on Thursday.
Migrants staying at the nearby Grande-Synthe camp had known the girl who had died as she was part of a family who had been staying in the gym, said French police.
A note on terminology: The BBC uses the term migrant to refer to all people on the move who have yet to complete the legal process of claiming asylum. This group includes people fleeing war-torn countries such as Syria, who are likely to be granted refugee status, as well as people who are seeking jobs and better lives, who governments are likely to rule are economic migrants.
Belgium migrants: Girl 'shot' after police van chase