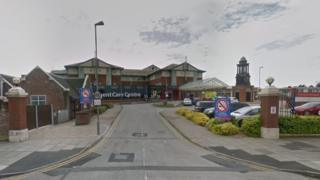 A healthcare professional at a hospital has been arrested over the alleged administration of poison or a noxious substance to patients.
Blackpool Teaching Hospitals NHS Foundation Trust raised concerns over care to some patients on 8 November, Lancashire Police said.
The allegations related to the alleged mistreatment and neglect of some patients on the stroke unit in November, police said.
She has been bailed until 6 December.
The worker has also been suspended from duty.
The BBC understands officers are investigating the alleged incorrect administration of drugs.
Det Ch Insp Jill Johnston said: "The inquiry is complicated and we have a team of specialist detectives working on this case who are also offering support to those families who have had loved ones identified as potentially being involved.
"Our priority and the priority of Blackpool Teaching Hospitals NHS Foundation Trust is to ensure the safety of patients. We are working closely with the Trust as part of the investigation."
Blackpool hospital medic held over 'poisoning' claims