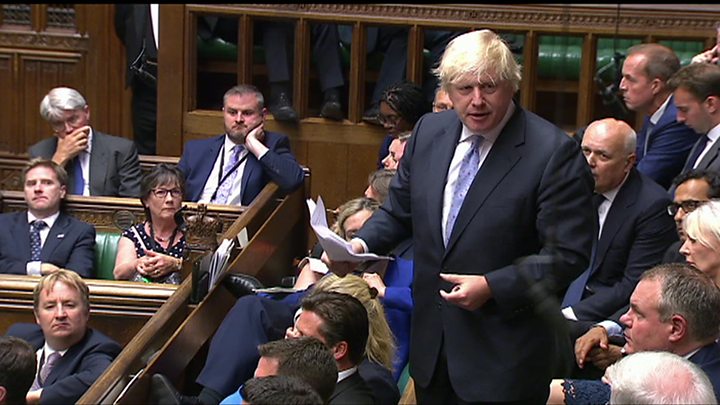 Boris Johnson has said it is "not too late to save Brexit" as he accused Theresa May of "dithering" over the UK's strategy for leaving the EU.
In a resignation speech in the Commons, the ex-foreign secretary said a "needless fog of self-doubt" had descended over the past 18 months.
While praising the PM's "courage and resilience", he said her Chequers plan would see the UK in "miserable limbo".
He quit ten days ago, saying he could not support the PM's EU blueprint.
Addressing MPs, he said the "bright certainties" that followed the 2016 Brexit vote had dissipated and the UK risked ending up in "economic vassalage" if it agreed to follow EU regulations on trade.
He said the vision set out by Mrs May in her Lancaster House speech in January 2017 for a "strong independent, self-governing Britain" had never been turned into a firm negotiating position.
The government, he claimed, had simply not tried to make the case for a loose arrangement with the EU based on a wide-ranging free trade deal.
Instead, he said the UK had conceded ground over the divorce bill, the role of the European Court of Justice and the Northern Ireland border, which he said had needlessly become "politically charged" and resulted in a "fantastical, Heath Robinson" customs arrangement being put forward.
Ministers, he warned, were "saying one thing to the EU about what we are really doing, and pretending another to the electorate" – a situation which voters would see through.
"Given that in important ways this is Brexit in name only, I am of course unable to support it, as I said in cabinet at Chequers, and am happy to be able now to speak out against it."
"It is not too late to save Brexit. We have time in these negotiations. We have changed tack once and we can change again…
"We need to take one decision now before all others – and that is to believe in this country and what it can do because the UK's admirers across the world are fully expecting us to take back control."
Earlier during Prime Minister's Questions, Mrs May said the final Brexit deal must honour the 2016 referendum result but also be "workable" in terms of protecting jobs and livelihoods.
High tempers
Mr Johnson's intervention comes as tempers are running high in the Conservatives over planning for the UK's March 2019 exit.
In the past 48 hours, the government has narrowly won a series of votes on trade and customs arrangements despite substantial rebellions by pro-European Tories.
Would-be rebels were reportedly warned on Tuesday that opposing the government in a vote on a customs union would lead to a vote of confidence and potentially a general election.
The government ultimately won the vote by a margin of six. Theresa May will be questioned by MPs on the liaison committee about Brexit later before speaking at a meeting of Tory backbenchers.
Some critics of Theresa May regard the ex-London mayor as a possible successor, should she be forced out over Brexit.
He pulled out of the 2016 leadership race won by Mrs May after his campaign manager Michael Gove decided to run himself.
It is a long-standing parliamentary convention that ministers who quit the cabinet are given the opportunity to address the House to explain their reasons for doing so.
Such speeches can be dramatic and sometimes politically explosive.
Memorable examples include Sir Geoffrey Howe's barbed criticism of Margaret Thatcher's leadership and negotiating style in 1990, seen as paving the way for her subsequent downfall, and Robin Cook's denunciation of the Blair's government support for Iraq War in 2003.
In recent years, departing ministers have largely refrained from making speeches.
David Davis, who quit as Brexit secretary just hours before Mr Johnson, did not take up the invitation, instead giving a series of TV interviews to explain his disagreements with the PM but also his personal backing for her.
Boris Johnson: It is not too late to save Brexit}