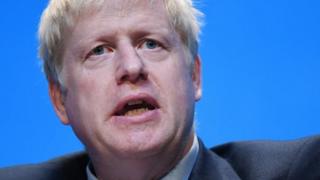 The reports of a row at Boris Johnson's home should not be a "distraction" from policy discussion in the leadership race, a cabinet minister has said.
International Trade Secretary Liam Fox said it was "easier" to "just give an explanation" about the row at the home of Mr Johnson and Carrie Symonds.
On Saturday, the leadership frontrunner avoided questions on the issue.
Fellow Tory Liz Truss, who backs Mr Johnson for the leadership, said it was a "private matter".
Boris Johnson row 'should not be distraction' in leadership race}