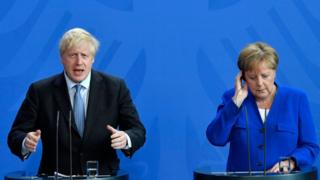 Boris Johnson has said there is "ample scope" for the UK and EU to renegotiate a new Brexit deal before 31 October, as he meets German Chancellor Angela Merkel in Berlin.
The prime minister reiterated his call for the current Irish border backstop plan to be ditched.
Mrs Merkel said the backstop was necessary until a long-term solution to the UK-Irish border was found.
She suggested that such a solution might be found "in the next 30 days".
Brexit: 'Ample scope' for new deal, says Boris Johnson}