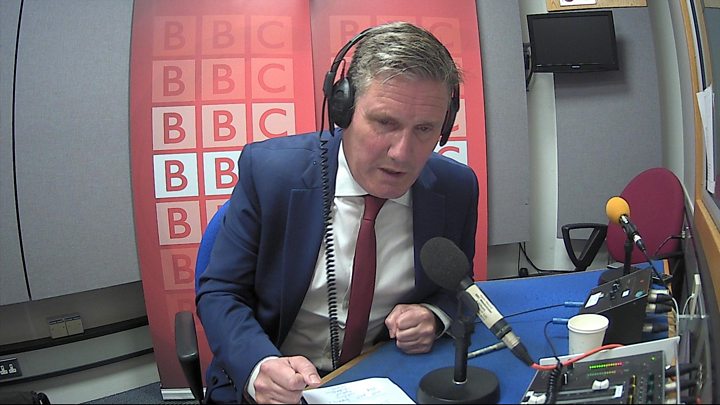 Jeremy Corbyn will meet other opposition party leaders later to discuss ways of averting a potential no-deal Brexit.
The Labour leader has outlined a plan to become caretaker PM after defeating the government in a no-confidence vote.
But in his invitation letter, he pledged to discuss "all tactics available" to block no deal.
Tory Party chairman James Cleverly said Mr Corbyn was offering "chaos, delay and uncertainty".
The SNP, Liberal Democrats, Change UK, Plaid Cymru and Green Party have all accepted the invitation to meet Mr Corbyn and discuss his proposals.
Mr Corbyn has said if he wins a no-confidence vote, he will delay Brexit, call a snap election and campaign for another referendum.
The Liberal Democrats, and some potential Tory allies opposed to a no-deal exit, have indicated they won't back a plan that leads to him in No 10.
Ahead of the meeting, Lib Dem leader Jo Swinson told BBC Breakfast a plan involving Mr Corbyn as interim leader was less likely to succeed.
Shadow Brexit secretary Sir Keir Starmer said Tuesday's meeting would be "a pretty frank discussion" about the options available.
"Today is about, can we get a unified approach that we agree? There'll have to be give and take, but we must have a plan that everybody can coalesce around and that we implement as soon as we can next week," he told BBC Radio 4's Today programme.
As well as Mr Corbyn's no-confidence plan, MPs will also discuss taking legislative measures to block a potential no-deal, Sir Keir said.
"I think they're direct, I think they're effective. I want something with a legal edge."
'More optimistic'
On Monday, PM Boris Johnson said he was "marginally more optimistic" about striking a new Brexit deal with the EU.
Asked at the end of the G7 summit in France about the possibility of MPs thwarting plans to leave the EU at the end of October, Mr Johnson said: "I think it's the job of everybody in Parliament to get this thing done.
"I think it's what the people want, I also think, by the way, it's what our friends and partners on the other side of the Channel want – they want it over."
Mr Johnson says he wants to leave with an agreement, but the UK must leave the EU by the latest deadline of 31 October "do or die".
Although Boris Johnson only has the most emaciated of majorities, the opposition seems to be divided on tactics and outcome.
Mr Corbyn wants to be a caretaker prime minister, he wants to call a general election and campaign for another referendum. But Jo Swinson wants to know, does he really want to stop Brexit? Or whether, in a referendum, he would have a Labour version of leave on the ballot paper?
More crucially, she says the only way for Mr Corbyn to become caretaker leader is to win a vote of no confidence against Mr Johnson. And if Tory rebels won't support Mr Corbyn, she wants to know if he would stand aside for a veteran parliamentarian such as Ken Clarke or Harriet Harman.
Already her attitude has been described as petulant by a senior Labour frontbencher so that doesn't necessarily auger well for today's talks.
The most likely outcome is that MPs will try to seize the parliamentary agenda and legislate against a no deal, but that in itself isn't a watertight solution.
There are two weapons in Mr Johnson's armoury. He has ruled out suspending Parliament in September, but hasn't ruled it out entirely ahead of the 31 October deadline. If he does that, that stops them trying to block no deal at the last minute.
On the other hand, if MPs tell him 'you're going to have to legislate to extend Brexit,' he can say 'I refuse to do it' and call an election.
Writing in the Independent, Mr Corbyn pledged to discuss all options with other party leaders to "stop this no-deal disaster in its tracks".
"The Tories are going out with their begging bowl to billionaire hedge funders to raise cash for an autumn general election," he wrote.
"The chaos and uncertainty caused by a no-deal Brexit is a potential goldmine for speculators betting against the pound."
He added: "[No-deal Brexit] won't return sovereignty, it will put us at the mercy of Trump and the big US corporations dying to get their teeth into our NHS, sound the death knell for our steel industry and strip back our food standards and animal welfare protections."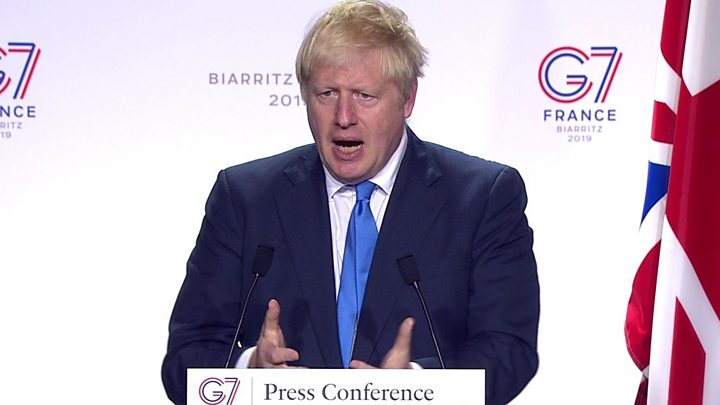 Responding to Mr Corbyn's newspaper article, Mr Cleverly said: "The alternative to delivering Brexit is Jeremy Corbyn in Downing Street, a man who would wreck the economy, break up our Union, is soft on crime and won't stand up for Britain."
He insisted only Mr Johnson and the Conservatives could provide the leadership needed to deliver Brexit by 31 October, "whatever the circumstances".
Brexit: Corbyn to meet opposition MPs to discuss plan to stop no deal}