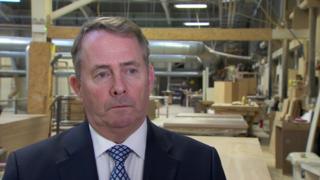 International Trade Secretary Liam Fox has said language in the draft UK-EU political declaration, which refers to looking at technology to address the Irish border, is "encouraging".
He was speaking during a visit to a business in Newry, County Down.
Some MPs, including those in the DUP, have said they will not back the government's Brexit deal because of the Irish border backstop proposal.
Chancellor Phillip Hammond is also visiting Northern Ireland on Friday.
The backstop is an insurance policy to ensure frictionless trade across the Irish border after Brexit if no other solution can be found as part of a wider deal with the EU.
If it comes into effect, it would result in Northern Ireland staying aligned to some rules of the EU single market, meaning goods coming into Northern Ireland from Great Britain would face extra checks to see if they met EU standards.
The DUP has repeatedly said it will not accept any extra checks only in Northern Ireland, and has vowed to vote against the deal in the Commons.
But Mr Fox, who backed leave in the referendum, told BBC News NI's Economics and Business Editor John Campbell that "this is a bullet we have to bite".
"People in parliament will have to take a decision on whether they are going to block the democratic decision of the public."
He said the government's aim was to ensure "we never get to the backstop", and that he hoped that issue would be addressed through the future relationship.
"The paper we published yesterday sets out a number of alternative arrangements to deal with the border, which is a big improvement on where we've been before".
'Building trust'
"It shows shows building trust and we can avoid ever getting to the backstop," he added.
But he suggested Great Britain could have issues negotiating trade deals with new partners if the backstop arrangement came into effect.
Mr Fox also did not rule out extending Article 50 if Parliament votes down the government's draft Brexit plan.
But he said: "We've always said we didn't want to extend Article 50 – we need to come to an agreement."
Chancellor Philip Hammond is expected to visit Northern Ireland on Friday afternoon before speaking at the DUP conference.
He is one of two senior Conservative MPs attending the event, with Brexiteer Boris Johnson appearing on Saturday.
'Immediate funding'
Before the chancellor's arrival, the Treasury announced that funding of £66m is to be released so that 23 shared and integrated schools in Northern Ireland can continue with building (capital) projects.
The money is from a pot of £500m that was first approved in the Stormont House agreement in 2014 and re-affirmed in the Fresh Start Agreement in November 2015.
Mr Hammond will visit one of the schools that is to receive money, before heading to an event led by the Federation of Small Businesses (FSB).
Earlier this year, BBC News NI revealed that unspent money totalling £91m for shared and integrated education from the agreements would be made available in future years.
DUP MP Sammy Wilson said Mr Hammond would be welcomed at his party's annual conference in Belfast, despite his party's differences with the government over the deal.
"I think the fact that we have brought Philip Hammond and Boris Johnson across knocks on the head the idea that some people have been putting around that we have closed our minds and our ears to listening to all sides of the argument, because they are both at difference poles in the Conservative Party," Mr Wilson told the BBC's Good Morning Ulster programme.
The chancellor will address the conference in the evening, but Mr Johnson will be the guest speaker on Saturday – traditionally viewed as a more high-profile slot in annual party conferences.
'Surprise'
But Mr Wilson said it was "not our fault" if the media gave more prominence to Mr Johnson and said it was apt that Mr Hammond would address an audience that will include many members of the business community.
The East Antrim MP also criticised Northern Ireland business leaders for giving their support to the draft Brexit deal, after a delegation which included several major employers met Prime Minster Theresa May in Downing Street on Thursday.
"It's one of the things that surprises me about the reaction from the business community this morning," Mr Wilson said.
"They seemed to go in and swallow the propaganda that the prime minster gave to them yesterday."
The DUP and the Conservatives signed a confidence-and-supply pact in June 2017, with the DUP securing more than £1bn of extra funding for Northern Ireland in exchange for its 10 MPs supporting the government on key votes in Parliament.
Brexit deal: Border detail in declaration encouraging, says Liam Fox}