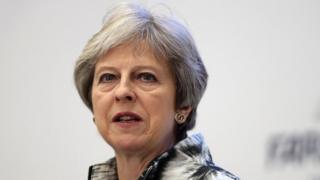 Theresa May has insisted any Brexit deal must be "workable" as she came under fire from both Labour and Conservative MPs in the Commons.
During Prime Minister's Questions, she said she disagreed with Tory MP Andrea Jenkyns, who asked her "at what point it was decided Brexit means Remain".
The PM said any deal had to be credible and protect the economy, as well as honouring the 2016 referendum result.
Jeremy Corbyn said the Conservatives had "sunk into a mire" of infighting.
Mrs May will address Tory MPs later amid bitter divisions in their ranks over her Brexit policy.
The meeting will be the prime minister's last chance to rally backbenchers before the summer recess and will follow an appearance by Mrs May at the Liaison Committee of select committee chairs.
During the final session of PMQs before the summer recess, Mrs May defended her handling of Brexit negotiations and her recent talks with Donald Trump, telling Mr Corbyn that while the Labour leader "protests, I deliver".
Acknowledging "strong feelings" on all sides, she insisted her blueprint for future relations with the EU was realistic and already being considered by the EU.
In response to Ms Jenkyns's question, she insisted "Brexit continues to mean Brexit" and the government should be "talking about the positives" of leaving.
But the PM added: "I know she has criticised me for looking for a solution that is workable. I disagree with her on that because I think we need a solution which is going to work for the UK."
On Tuesday, ministers saw off a bid by Tory rebels to create a customs union with the EU if a trade deal failed. The rebel amendment to the trade bill was defeated by only six votes.
Twelve Conservatives rebelled against their party by supporting the amendment but the government's total was boosted by the support of four Labour MPs.
Conservative MPs were warned that voting for the amendment, and therefore against the government, could lead to a vote of no confidence in the prime minister or a general election, leading Tory remainer Anna Soubry said.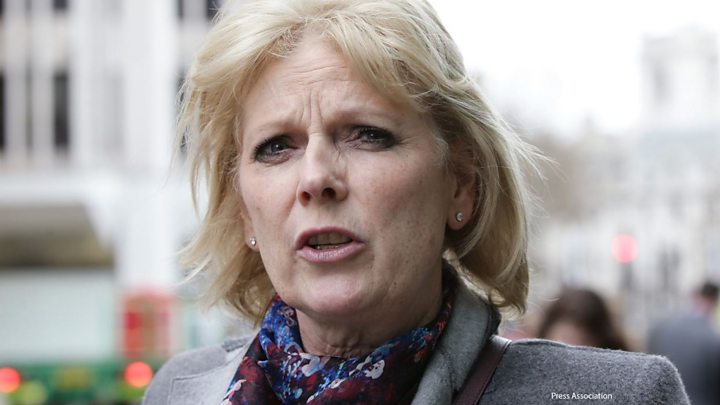 She told BBC Radio 4's Today programme it was an "appalling spectacle" – and that she would be the first in the queue to give her backing to Mrs May.
"The problem is, I don't think that she's in charge any more," said the MP for Broxtowe. "I've no doubt that Jacob Rees Mogg is running our country."
The former minister called for a government of national unity to deal with Brexit.
"I personally would abandon the Labour frontbench and I would reach beyond it and I would encompass Plaid Cymru, the SNP and other sensible, pragmatic people who believe in putting this country's interests first and foremost," she said.
She also said that many MPs were "frightened of the extremes" within their local associations. Hardline Brexiteers led by Mr Rees Mogg are ruthless and organised, while the "pragmatic majority" are loyal to the prime minister, she added.
'Genuine mess-up'
Cabinet Office minister David Lidington, who is effectively Mrs May's second-in-command, rejected claims her government was in desperate straits over Brexit.
"When the government doesn't have an overall majority in either house of Parliament, things are sometimes close on votes," he told BBC Radio 4's Today programme.
But he said the prime minister was "absolutely focused on getting the right deal for the country in negotiations with her European counterparts".
He apologised to Lib Dem deputy leader Jo Swinson, who has accused the Conservatives of double crossing her in Tuesday night's vote.
Ms Swinson, who is on a maternity leave, had a "pairing" arrangement with Tory chairman Brandon Lewis, which meant he should not have taken part in the vote.
Mr Lidington said the fact that Mr Lewis had voted was a "genuine mess-up" that should not have happened and he had apologised to Ms Swinson.
Johnson resignation speech?
Prime Minister's Questions will be Labour leader Jeremy Corbyn's last opportunity to question Mrs May before Parliament breaks for the summer.
The prime minister will then head to the Liaison Committee – due to start at 15:00 BST.
The committee – which usually sits three times a year – is made up of the chairs of each select committee.
With more than 30 senior MPs from the main parties free to ask questions, the session could be lengthy.
Once that is over, the prime minister will attend a meeting of the 1922 committee of backbench Conservative MPs.
The meeting comes amid rumours that Tories seeking to remove Mrs May are close to getting the 48 signatures they need to trigger a no-confidence vote.
Such a vote could pave the way for a leadership election.
There has also been speculation that Boris Johnson – who resigned as foreign secretary after disagreeing with the prime minister's vision of the future relationship with the EU brokered at Chequers – will take the opportunity to make a resignation speech in the Commons on Wednesday.
Get news from the BBC in your inbox, each weekday morning
Brexit deal must be workable, says Theresa May}