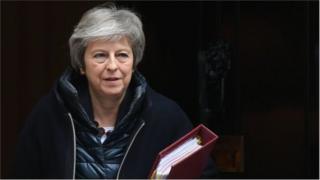 Northern Ireland business leaders and representatives of several major employers are to meet the Prime Minister in Downing Street later.
The move is seen as a show of support for Theresa May's Brexit deal.
The talks are expected to be attended by about 40 individuals, including leaders of business groups and bosses of individual companies.
It is understood that an hour has been set aside for the discussions.
Business groups like the Confederation of British Industry (CBI) in Northern Ireland back the withdrawal agreement, largely as it avoids a no-deal exit from the European Union.
The Ulster Farmers' Union (UFU) has gone further in calling on the DUP to back the deal.
The Northern Ireland Office (NIO) has said representatives from wider civic society will also be in attendance, including voluntary and community sectors and universities.
'Absurd'
However, the DUP MP Sammy Wilson has said businesses are being used as "puppets" by the Northern Ireland Office.
Thursday's talks will likely involve a question and answer session.
Stephen Kelly, the chief executive of Manufacturing NI, said they will tell Mrs May: "We back the deal. Good luck. What do we need to do to help?"
He added the delegation will comprise of businesses large and small, urban and rural, industrial and agricultural.
The Traditional Unionist Voice (TUV) MLA Jim Allister accused them of "lining up to pay homage" to the prime minister.
He said they had failed to answer why they are supportive of a backstop which involves regulations on imports from Great Britain.
"The rush to embrace a crippling Irish Sea border is as absurd as it is destructive of our economy," he added.
Confidence-and-supply 'still in existence'
It comes as the DUP leader Arlene Foster said she wants to meet business organisations who have come out in support of the draft EU withdrawal agreement.
Arlene Foster said that she wants the meeting to be next week "if they want to meet me".
The DUP leader declined to state whether she supported Sammy Wilson's "puppets" description, but said she met a businessman who employs 300 people and has a turnover of £70m who is "absolutely outraged" by the Brexit deal.
She said there were many more like him who had "a clear view on the withdrawal agreement".
The BBC understands the DUP have asked the NI Chamber of Commerce to facilitate a meeting with business organisations on Monday.
However, the former First Minister denied her party's confidence and supply agreement with the government was dead, adding it was "very much still in existence".
Brexit deal: NI business leaders to meet Prime Minister}