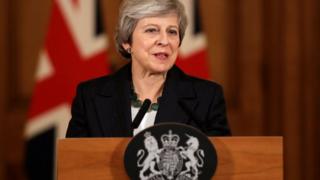 Theresa May has dismissed speculation she could be ousted as prime minister over her Brexit agreement, saying: "I am going to see this through".
Speaking in Downing Street, the prime minister said: "The course I have set out is the right one for our country and all our people."
She vowed to get the deal signed off in Brussels and put it to a vote of MPs.
It follows a string of ministerial resignations and talk of a no confidence vote from Tory MPs.
Brexit: I am going to see this through, says Theresa May}