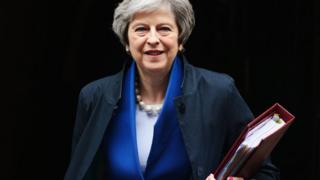 "You can trust me to deliver," the prime minister has promised Brexit supporters and her divided cabinet.
Writing in the Sunday Times, Theresa May said that she would ensure the UK left the customs union without imposing a hard border in Ireland.
She warned: "There will have to be compromises," but pledged: "I will not let you down".
Meanwhile, a cross-party group of former cabinet ministers has urged Parliament to reject a "hard Brexit".
Coming days after foreign secretary Boris Johnson criticised her post-Brexit customs plan as "crazy", Mrs May writes of "the noisy debate" and taking "the opportunity to remind the British public of my mission in the negotiations."
She said: "We will leave the customs union so we can establish our own independent trade policy and negotiate trade deals in our interests. I have proposed different options for a new customs arrangement with the EU and the government will continue to develop them during the negotiations."
'Deep economic ties'
There would be three tests for the outcomes Britain wanted to see from negotiations, Mrs May said.
The deal must honour the agreements in the Northern Ireland peace process.
"This means there can be no hard border between Northern Ireland and Ireland, or between Northern Ireland and the rest of the UK," she said.
It must have "as little friction as possible for trade" to protect British jobs with supply chains across Europe.
And it must not prevent the UK from negotiating its own trade agreements around the world, as staying in the customs union would.
She said this plan would deliver "the Brexit people voted for".
Simon Coveney, the Irish foreign minister, dismissed the idea of using any form of infrastructure or technology to maintain separate customs regimes between the Republic of Ireland and Northern Ireland.
He told the BBC's Andrew Marr Show: "We just simply think it won't work. If you don't believe me on it, listen to people who are living locally.
"Listen to the chief constable of the PSNI. He is saying any infrastructure on the border, any physical infrastructure on the border, is going to represent a risk to his officers. He's warning not to go down that route."
Instead he said the two governments could agree a "shared customs space or shared customs territory" and echoed Theresa May's language of a "customs partnership".
Promises not kept
In the Mail on Sunday, former Liberal Democrat leader Nick Clegg, former Conservative education secretary Nicky Morgan and former Labour foreign secretary David Miliband called on Parliament to resist "hard Brexit" supporters "holding this country's negotiating position to ransom".
They said remaining in the customs union and single market was essential to protect the UK economy.
MPs should "reject completely the siren calls to sever the UK's deep economic ties with the European Union," they said.
Student organisations representing almost a million young people also wrote to MPs demanding a referendum on any final Brexit deal.
Organised by the campaign group For our Future's Sake, the letter from 60 student unions says promises made by pro-Brexit groups have not been kept and that an estimated 1.4 million people were too young to vote in June 2016 but now deserve a say.
Brexit: I will not let you down, Theresa May promises}