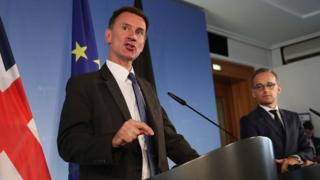 Jeremy Hunt has warned that without a "change in approach from the EU negotiators", there is now a "very real risk of a Brexit no deal by accident".
The foreign secretary said "many" in the EU believed they just had to "wait long enough and Britain will blink" but "that's not going to happen".
Speaking in Berlin, Mr Hunt, said a no deal would be "challenging" but the UK would still "thrive economically".
Germany's foreign minister says it wants a deal "not a disorderly Brexit".
Heiko Maas, speaking after their talks said: "We know that everyone has to make mutual concessions to get this deal.
"We know that the European Union has its interests, overall interests, so not just individual member-states but EU institutions.
"And of course Britain doesn't want to unnecessarily complicate framework conditions for economic activity, but also security questions, or our foreign policy cooperation.
"It becomes more difficult anyway as a non-member of the European Union.
"So, we've agreed we will prepare bilaterally for the time after Brexit."
Mr Hunt's trip to Germany comes at the start of a concerted push by British government ministers to sell the UK's latest Brexit blueprint across the Continent.
Prime Minister Theresa May will meet the Austrian chancellor and Czech and Estonian prime ministers this week, saying both sides know "the clock is ticking" on negotiations.
The EU and the UK want a deal in place by October.
On Sunday Brexit Secretary Dominic Raab said a deal could be done if both showed "energy, ambition and pragmatism".
But he also said preparations were under way in case negotiations failed and the UK left the European Union with no deal in place.
The UK is due to leave the European Union on 29 March 2019, but the two sides have yet to agree how trade will work afterwards.
Prime Minister Theresa May hopes the government's plan, detailed in the Brexit White Paper, will allow the two sides to reach a deal on relations by the autumn.
She said: "The White Paper sets out in detail our proposal for an unprecedented economic and security partnership – it is the right approach both for the UK and the EU."
"This is a principled and practical Brexit that is in the mutual interests of the UK and EU but it will require pragmatism from both sides.
"We must step up the pace of negotiations and get on to deliver a good deal that will bring greater prosperity and security to both British and European citizens. We both know the clock is ticking – let's get on with it."
The White Paper proposes close ties in some areas, such as the trade in goods, but will end free movement of people and the jurisdiction of the European Court, and allow the UK to strike trade deals with other nations.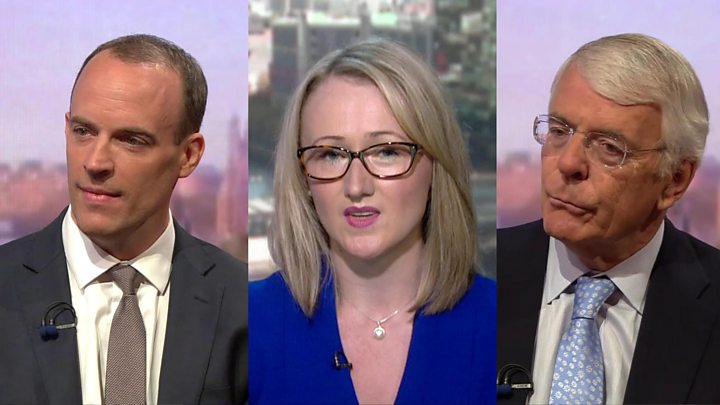 Mrs May is meeting her senior ministers in Gateshead on Monday morning for the last scheduled cabinet meeting until September.
After Parliament rises for the summer recess on Tuesday, Downing Street said the UK negotiating team would be travelling to Brussels while the foreign secretary, chancellor, home secretary, business secretary and the minister for the Cabinet Office will meet counterparts across Europe.
Critics at Westminster say the White Paper is an unworkable compromise, which would leave the UK governed by the EU in many areas, but with no say in its rules.
The plan sparked two cabinet resignations – then Brexit Secretary David Davis and Foreign Secretary Boris Johnson.
Plans questioned
The EU's chief negotiator, Michel Barnier, questioned on Friday whether UK plans for a common rulebook for goods and agri-foods were practical and said the EU would not run the risk of weakening its single market.
He questioned whether the plans could work without causing extra bureaucracy and said there were "practical problems" about how tariffs would be determined and collected.
Dominic Raab has said a deal could be done by October, but making "no deal" preparations such as hiring extra border staff was part of being a "responsible government".
The Times has reported that the head of Amazon in the UK, Doug Gurr, warned of potential "civil unrest" in the event of "no deal" at a meeting with Mr Raab on Friday.
Labour leader Mr Corbyn said it seemed the government's priority was preparing for no deal, which would be bad for industry.
"There has to be a serious stepping-up of negotiations to reach an agreement on customs and on trade," he said.
Brexit: Jeremy Hunt warns EU of 'no deal by accident'}