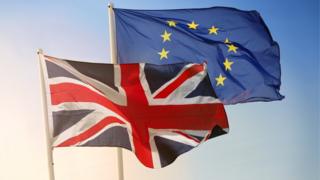 Campaign group Leave.EU has been fined £70,000 after an investigation into spending during the 2016 referendum.
The Electoral Commission found the group – which ran a separate campaign to the official pro-Brexit group Vote Leave – failed to report at least £77,380 of spending.
It also exceeded a limit for non-party registered campaigners by at least 10%.
Leave.EU founder Arron Banks said previously that he would "vigorously" contest the allegations.
The Electoral Commission said it had referred "the responsible person" for Leave.EU to the police, saying it had reasonable grounds to suspect she had committed criminal offences.
Brexit: Leave.EU fined £70,000 for breaking electoral law during referendum}