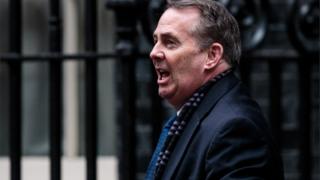 The Brexit deal negotiated with the EU will give the UK a "firm and stable" base on which to build a "global future", International Trade Secretary Liam Fox is expected to say later.
Amid continued criticism of the prime minister's deal, Mr Fox will give a speech in which he will acknowledge that it will "not please everyone".
"Tough choices" were made, he will say, which critics "are yet to face up to".
The PM, in Argentina, will say the deal will be good for the global economy.
Mr Fox's speech comes amid continued wrangling over the withdrawal deal negotiated with the European Union, which is widely expected to be rejected by MPs when it is put to a Commons vote on 11 December.
Mr Fox, who campaigned for Brexit, will say in a speech at the Portbury Royal Docks, near Bristol: "The withdrawal agreement and the political declaration will not please everyone, and we have had some tough choices to make – choices which many in Parliament, on both sides of the House, are yet to face up to.
"But the deal we've reached will give us a firm and stable base on which to leave the EU and build this country's global future, a future that still encompasses Europe, of course, but also the wide fast-growing markets beyond, with all the opportunity that entails."
'Raise our sights'
He will play down reports suggesting that UK economic growth after Brexit would be slower than if the UK stayed in the EU and say, despite warnings before the Leave vote in 2016, more than 700,000 jobs had been added to the economy.
"This upward trajectory shows no signs of slowing," he will say.
"Now is the time to raise our sights, and acknowledge that there is a world beyond Europe, and a time beyond Brexit.
"We need to maximise our access to the EU market but without damaging our potential to benefit from emerging trade opportunities in other parts of the world."
Mrs May has been attempting to sell her Brexit deal to the public and MPs, before the vote in the House of Commons.
On Thursday, she refused to rule out the possibility of the UK leaving without a deal if MPs rejected her deal, while Labour Leader Jeremy Corbyn told ITV: "The alternative isn't no deal. Nobody's going to allow no deal. How could we?"
On a two-day summit of the G20 group of leading economies, Mrs May will join other world leaders including US President Donald Trump, China's President Xi Jinping and Japan's Shinzo Abe as well as European Council President Donald Tusk and European Commission chief Jean-Claude Juncker.
She will be the first serving UK prime minister to visit the capital of Argentina, Buenos Aires, and the second to travel to the country, after Tony Blair in 2001.
She will argue that Brexit will have positive consequences for the world economy: "For the first time in more than four decades, the UK will have an independent trade policy.
"We will play a full and active role on trade on the global stage, working with friends new and old, at a time of unprecedented global inter-connectedness."
It comes after President Trump suggested that the negotiated deal could threaten any future US-UK trade deal.
Brexit: Liam Fox seeks to rally support for PM's deal}