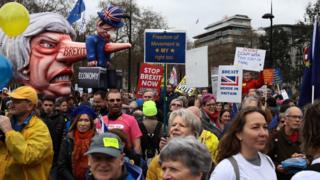 Hundreds of thousands are marching through central London calling for another EU referendum, as MPs search for a way out of the Brexit impasse.
Demonstrators from the "Put It To The People" campaign are marching from Park Lane to Parliament Square, before rallying in front of Parliament.
It comes after the EU agreed to delay the UK's departure from the EU.
PM Theresa May is coming under pressure to quit after saying she might not put her Brexit deal to a third vote by MPs.
She wrote to all MPs on Friday saying she will ditch plans to put the deal to another so-called meaningful vote if not enough MPs support it.
Downing Street sources have denied reports in the Times newspaper that discussions are under way about a timetable for the prime minister to step down.
Unless her deal is passed by MPs, the UK will have to come up with an alternative plan or else face leaving without a deal on 12 April.
London Mayor Sadiq Khan tweeted a video of himself joining demonstrators holding up a 'Put it to the People' banner at the front of the march as it began.
He was flanked at the front of the march by Liberal Democrat leader Vince Cable, who tweeted that there was a "huge turnout of people here from all walks of life".
Meanwhile, a record-breaking online petition on Parliament's website calling for Brexit to be cancelled by revoking Article 50 has attracted more than 4.3 million signatures.
As the number of signatures on the petition continued to climb, its creator Margaret Georgiadou said she had "received three death threats over the phone", and a "torrent of abuse" via her Facebook account.
Liberal Democrat MP Layla Moran said the petition could "give oxygen" to the campaign for another Brexit referendum.
Speakers at the rally include Labour's deputy leader, Tom Watson, Scotland's First Minister, Nicola Sturgeon, London Mayor Sadiq Khan, former Tory turned independent MP Anna Soubry and former attorney general Dominic Grieve.
Ms Sturgeon said now was "the moment of maximum opportunity" to avoid a no-deal Brexit.
---
Voices from the march
"I think a second vote might not be an entirely democratic solution because it would put into question every referendum we ever did. But I wanted to show my anger – that I'm against xenophobic, racist and nationalistic rhetoric that is being spewed everywhere in the news to justify Brexit." Law graduate Sophie Latham, 22
"We've had so many opportunities growing up in the EU – freedom of travel, equal pay, sexual equality and so on. Will our kids get the same?" Lin Worthy, self-employed
"This is the first time in my life at the age of 62 that I've come to something to make a statement because I see no future for this country, for my kids or my grandkids. It's just a total mess so I thought I've got to make a stand." Rob Worthy, 62
"My partner is French, my two children are British-French, it has already caused lots of problems, having to apply for different passports has cost us lots of money. We've seen European friends leave Bristol – German and Spanish friends." Simon Mead, from Bristol
"I was too young to vote in the last referendum. It's going to affect my career with research grants so I definitely wanted to come and protest." Calypso Latham, 19, science student
---
'Clear choices'
If Mrs May's deal is approved by MPs next week, the EU has agreed to extend the Brexit deadline until 22 May. If it is not – and no alternative plan is put forward – the UK is set to leave the EU on 12 April.
In a letter to all MPs on Friday evening, Mrs May offered to talk to them over the coming days "as Parliament prepares to take momentous decisions".
The march comes as the pro-Brexit March to Leave, which started in Sunderland a week ago, continues towards London.
Former Ukip leader Nigel Farage re-joined the March to Leave in Linby, near Nottingham, on Saturday morning telling around 200 Brexit supporters that Mrs May had reduced the nation "to a state of humiliation".
Speaking from the top of an open-top bus, Mr Farage said those gathering for the People's Vote march in London were not the majority, before leading the crowds through the village.
Brexit march: Hundreds of thousands join referendum protest}