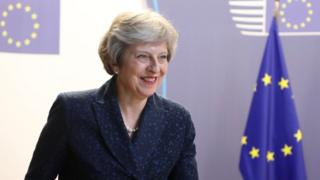 Theresa May has insisted the UK will leave the customs union and single market while maintaining a "close relationship" with the EU after Brexit.
Updating MPs on negotiations, she urged the EU to consider her blueprint for future relations – due to be published next week – "seriously".
She told MPs that both sides needed to show flexibility as talks "intensify".
The BBC understands No 10 has produced a third model for handling customs, to be discussed by ministers on Friday.
Pressed to give more detail of the plan as she takes questions in the House of Commons, Mrs May said she wanted a "sustainable and close relationship" with the EU to boost their mutual prosperity and security.
She said progress had been made but "real differences" remained on the issue of the Irish border.
Labour leader Jeremy Corbyn said the cabinet was irrevocably split between different Tory factions
But Mrs May rejected calls to "pick a side" between Remainers and Brexiteers, saying: "I have picked the side of the British people and these are the ones for whom I will deliver."
And asked by Tory MP Sir Desmond Swayne whether "Brexit will be recognisable as Brexit", she said despite jokes about her saying "Brexit means Brexit… it does mean Brexit".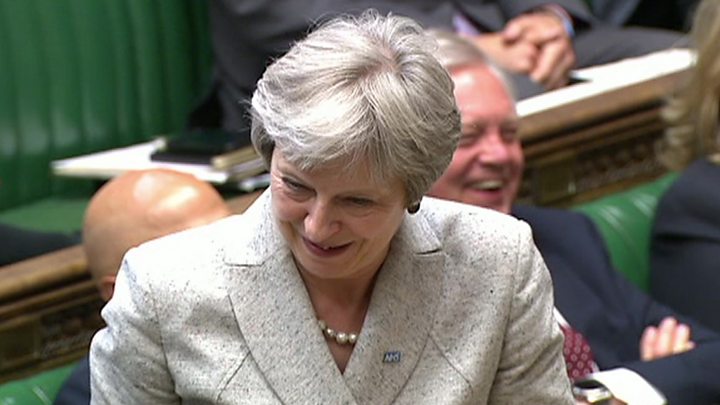 Earlier, Tory backbencher Jacob Rees-Mogg warned the prime minister risked a revolt if the type of Brexit she promised is not delivered.
Writing in the Daily Telegraph, Mr Rees-Mogg said he and other members of the 60-strong group of Eurosceptic Tory MPs he leads, known as the European Research Group, would reject a deal that did not amount to a clean break with the EU.
But amid signs of widening Conservative divisions, Foreign Office minister Alan Duncan suggested the "insolent" MP should "pipe down".
Theresa May hopes to resolve cabinet splits on the shape of Brexit at this week's meeting.
Her official spokesman refused to be drawn on there being a third customs model saying: "There is going to be a lot of speculation between now and Chequers.
"Some of it might even be true, but I'm not going to engage in advance of the away-day taking place."
The prime minister has said that after the cabinet gathering the UK will publish a White Paper setting out "in more detail what strong partnership the United Kingdom wants to see with the European Union in the future".
It follows last week's summit in Brussels where European Council president Donald Tusk issued a "last call" for the UK to agree its position on Brexit, saying the "most difficult" issues were unresolved and "quick progress" was needed if agreement was to be reached by the next meeting in October.
The UK is due to leave the EU on 29 March 2019, and negotiations are taking place on what the future relationship between the UK and the EU will look like.
The government had talked publicly about two potential customs options.
One, a customs partnership, would mean the UK applies the EU's own tariffs and rules of origin to all goods arriving in the country and then hands over what was owed for goods that subsequently end up in the EU.
The other, known as maximum facilitation or max-fac, aimed to employ new technology to remove the need for physical customs checks where possible.
The government has now deemed both options practically or politically undeliverable and is working on a third option, believed to involve "alignment" with the EU in regulations covering trade in goods but a looser relationship for services.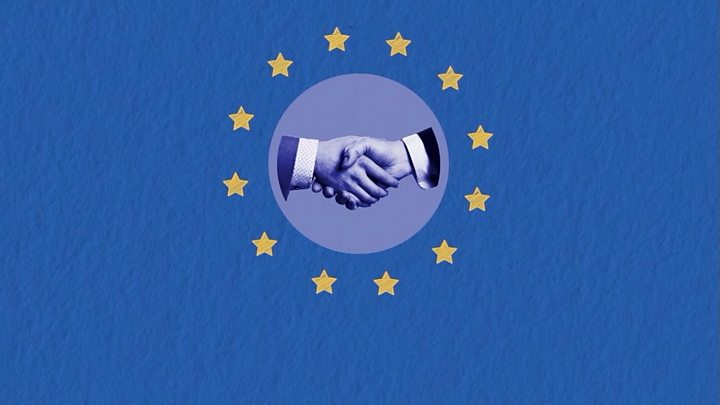 Mr Rees-Mogg said a deal which restricted the UK's ability to make trade agreements with other nations or control migration could not be accepted.
He said Mrs May had declared the UK would leave the single market and the customs union and "must stick to her righteous cause and deliver what she has said she would".
The government must seize a "great opportunity to do things better" rather than being in a "tremulous state that sees Brexit as mere damage limitation", he added.
But his colleague Vicky Ford said what the vast majority of Tory MPs wanted was a "practical, pragmatic deal that gives certainty to business and trade… not an ideological one".
She told BBC Radio 4's Today programme that a "crash-out no deal is not acceptable to those who want to support jobs and a partnership with the EU going forward".
Mrs May is also due to have talks in Berlin with German Chancellor Angela Merkel ahead of the Chequers meeting, No 10 said.
The Democratic Unionist Party, whose support Theresa May needs to have a majority in key Commons votes, said it would not support any deal which did not give the UK full control over its borders.
"We don't give blank cheques to anybody," its Westminster leader Nigel Dodds said after meeting the PM for an hour in Downing Street.
"We want to see a proper Brexit which fulfils the referendum result but we have been very clear that it has to be on the basis of the whole of the UK leaving the EU as one."
He accused Dublin and other European capitals of trying to "bully" the UK and using the issue of the Northern Irish border to "create an outcome which is to their liking", adding "they won't succeed in that".
Brexit: May says EU must treat UK blueprint 'seriously'}