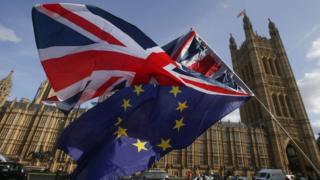 Cabinet ministers have been invited to read the UK's draft deal with the EU although it's not yet complete.
Theresa May has said the withdrawal deal is 95% done – but there is no agreement yet on how to guarantee no hard border in Northern Ireland.
This is proving to be the most contentious area, with the UK prime minister under pressure from her own party as well as the EU.
The UK is due to leave the EU on 29 March 2019.
But as yet there is no withdrawal deal in place, and EU chief negotiator Michel Barnier said it was "clear that more work is needed".
Mrs May has described the withdrawal agreement – covering issues like citizens' rights, the transition period and Gibraltar – as being 95% complete.
Leaving the Cabinet Office after studying the incomplete draft agreement, Environment Secretary Michael Gove told Sky News it was a "great document".
The UK and the EU cannot agree on the precise arrangements to avoid new border checks in Northern Ireland.
---
Backstop: The EU's view
BBC Brussels correspondent Adam Fleming
Brussels is more concerned about the form in which the backstop exists, not how it's exited from.
The EU is exploring the concept of a UK-wide customs arrangement to deal with the Irish border issue. But some member states want extra guarantees on rules and regulations if they are to offer the UK quota-free and tariff-free access to the single market.
Some question if it's legally possible to agree during the Brexit talks instead of in the detailed negotiations over the future relationship that will begin after exit day.
Others fret that they're being kept in the dark by the EU negotiators. But Brussels is united on two issues: the ultimate insurance policy remains a Northern Ireland-only element to the backstop, and the UK can't decide to withdraw from it on its own.
---
Both sides agreed to put in place a "backstop", also referred to as an insurance policy, that would only be triggered if a future trade deal is not in place by the end of 2020 – or if this final deal does not ensure a frictionless border.
This is because there have been warnings that a return of visible border checks could undermine the peace process in Northern Ireland as well as damaging businesses operating on both sides.
One option for the backstop is for the whole of the UK to remain temporarily aligned to the EU's customs union, avoiding the need for customs checks at the border.
But how long this would last, and how the arrangement could be terminated, has not yet been settled.
The government is under pressure from some Tories, as well as Labour, to publish the precise legal advice about how the arrangement would work.
Brexit: Ministers invited to read draft EU deal}