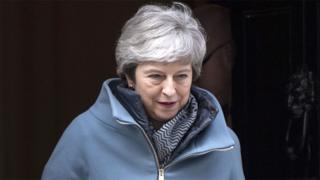 MPs are preparing to vote for their preferred Brexit option, with the PM due to meet Tory backbenchers in an effort to win them over to her deal.
Some have suggested Theresa May must name the date she will step down to have any hope of winning MPs' approval for her deal at the third attempt.
The BBC's Laura Kuenssberg said some leading Brexiteers were "tiptoeing their way" towards supporting her plan.
Jacob Rees-Mogg has said of the deal: "Half a loaf is better than no bread."
He told BBC Radio 4's Today programme he did not "begin to pretend this is a good deal or a good choice", but he would support the PM's plan if it had the backing of the Democratic Unionist Party.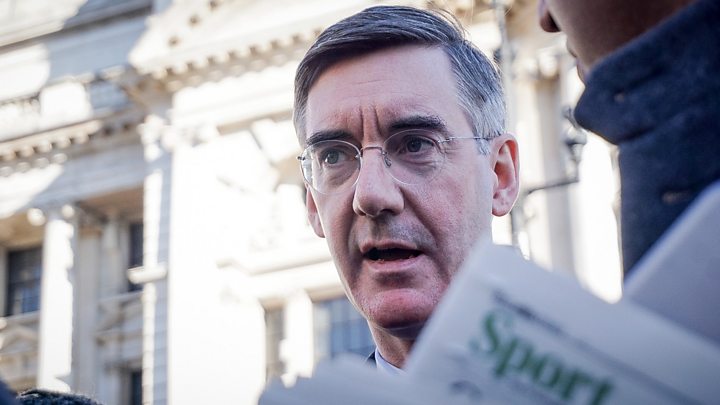 The 10 Northern Irish MPs are seen as the key to securing the deal, but they have urged Tory MPs to "stand firm" in their opposition unless there were "significant changes".
Commons leader Andrea Leadsom said the government was still in talks to persuade the DUP to back it, along with other MPs on their own benches.
Meanwhile, the President of the European Council Donald Tusk told MEPs they "cannot betray the six million people who signed the petition to revoke Article 50, the one million people who marched for a people's vote, or the increasing majority of people who want to remain in the EU".
He said the people "may feel that they are not sufficiently represented by the UK Parliament, but they must feel that they are represented by you… because they are Europeans".
Having voted to seize control of Commons business, backbench MPs will vote on Brexit alternatives later.
The Speaker will select around half a dozen options, with MPs marking on paper each option with a "yes" or "no".
The process is likely to continue into next week. However, it is unclear whether MPs will be free to vote as they wish or will take orders from party leaders.
Former health minister Steve Brine, who resigned on Monday to back the move to force indicative votes, told BBC Newsnight more than a dozen others might quit government roles if they are denied a free vote.
Ms Leadsom said it was a decision for Mrs May and the chief whip, but added that the votes gave her a "big cause for concern" as the government should be in charge of the Commons.
However, her cabinet colleague, Work and Pensions Secretary Amber Rudd, told reporters: "It's an important opportunity for the House to show its voice and say what it will accept rather than constantly saying what it won't accept."
Timetable for Wednesday in Parliament
12:00 GMT: Prime Minister's Questions
By 14:00: MPs take control of the Commons to debate the process of indicative votes
By 15:00: MPs vote on the procedure for indicative votes
15:15: The Speaker announces which Brexit proposals he has chosen to be debated and voted on, and the debate begins
19:00: MPs vote with paper and pen for their preferences
19:30: Debate on statutory instrument (SI) bringing Brexit delay into law
21:00: Vote on SI
21:15: The Speaker announces the results of the indicative votes – though he could announce them earlier during SI debate
All times approx
Labour's shadow international trade secretary Barry Gardiner told Today he expected there to be a free vote for his party's MPs later, but that they would be expected to rule out supporting a no-deal Brexit and revoking Article 50 in line with their manifesto.
"We have committed ourselves to trying to deliver the referendum result," he said. "The Labour party is not a remain party now."
Meanwhile, the Scottish Parliament is expected to formally back calls for Brexit to be cancelled in a vote later.
What is the PM's next move?
Mrs May continues to try to win MPs round to her deal, which has been heavily rejected twice. She is expected to address the backbench 1922 Committee ahead of Wednesday's debate.
Ms Leadsom said there was a "real possibility" the PM's deal could come back for a vote on Thursday or Friday, adding: "If we could simply get the withdrawal agreement bill under way…once we have done that, once we have left the EU, we can then look at what our future relationship will look like."
Friday is the day written into law for the UK to leave the EU, but later MPs will vote on a statutory instrument to confirm a delay – with the earliest Brexit is likely to happen now being 12 April.
Read more on the week ahead in Parliament
Writing in the Daily Mail, Mr Rees-Mogg – who is chairman of the pro-Brexit European Research Group of Tory MPs – said "an awkward reality needs to be faced" and he was ready to back the deal so long as it won DUP support.
Fellow ERG member, Tory MP Daniel Kawczynski, tweeted that he had appealed to members of the DUP to abstain from voting on the PM's plan if they cannot back it, saying it could be enough to get the deal "across the finishing line".
But ex-Foreign Secretary Boris Johnson told the BBC there was "no point" supporting Mrs May's deal "without any sign the UK is going to change its approach in phase two" of the negotiations. Otherwise he said he feared the country would be indefinitely tied to the EU's rules.
BBC political editor Laura Kuenssberg said the not-so-subtle subtext of Mr Johnson's remarks was "if the PM promises to go soon, then she might get my vote".
What options might MPs vote on?
Groups have been putting forward different options for the UK's future relationship with the EU. Several are based on the assumption Mrs May's withdrawal agreement with the EU will be approved, albeit with changes to the controversial Northern Ireland backstop.
They include:
Customs union: This calls for the UK to negotiate a new customs union with the EU immediately after it leaves.
Common Market 2.0: The UK would remain in the single market by rejoining the European Free Trade Association (EFTA) and staying in the European Economic Area (EEA). A "comprehensive customs partnership" would replace the Irish border backstop plan. It would accept continued freedom of movement but with conditions.
EFTA and EEA: The UK would rejoin EFTA and sign up to existing EEA rules and obligations but make them enforceable through the UK courts. Rejects any customs union with the EU, instead seeking agreement on new arrangements for Northern Ireland.
Malthouse compromise plan A: Mrs May's withdrawal deal but without the backstop, which would be replaced by alternative arrangements.
Another referendum: The public would vote in a confirmatory referendum on any Brexit deal which is passed by Parliament before it is ratified.
Revoke Article 50: If the government has not passed its withdrawal deal, MPs would vote on a no-deal Brexit two days before the UK's leaving date. If MPs reject no deal, the prime minister would have to cancel Brexit altogether.
The DUP's leader in Westminster, Nigel Dodds, has co-signed two proposals – one asking for the result of the EU referendum in 2016 to be respected and another backing the Malthouse Compromise.
There was some confusion over the confirmatory public vote option. Labour MP Peter Kyle helped draw up the motion and told Today that he expected his leader Jeremy Corbyn to order his MPs to back it.
But his colleague Mr Gardiner cast doubt on the support from Labour's frontbench, telling the programme the amendment makes it "look like a public vote is an attempt to Remain", adding: "It is not where out policy has been."
MPs later confirmed to the BBC they had been ordered to support the proposal.
Conservative backbencher Sir Oliver Letwin, whose cross-party indicative votes proposal ushered in today's debate, said he expected MPs to vote for everything that would be "all right" and serve the nation well.
He said he still hoped MPs would change their mind to support the prime minister's deal later this week but if one of the other options gets a majority, "we will have to work with the government to get them implemented".
Read more about the Brexit options being put forward
When will the voting take place?
According to a copy of a business motion released by Labour's Hilary Benn, there will be about five hours of debate on different options.
Voting by paper ballot will take place at about 19:00 GMT, with the results announced by Mr Bercow later that evening.
The process is likely to continue on Monday as MPs seek to whittle down options which could command majority support in Parliament.
The government has until 12 April to propose a different way forward to the EU if it cannot get the current agreement through Parliament.
Brexit: MPs prepare for votes in bid to break deadlock – BBC News