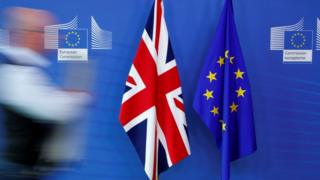 Brexit Secretary Dominic Raab has riled some MPs after appearing to suggest Parliament might not get a so-called "meaningful vote" on any deal.
Some MPs want the right to amend whatever Theresa May eventually comes back with, but Mr Raab hinted it may only be a "take it or leave it" choice.
The BBC's Laura Kuenssberg says it's a "big fat row waiting to happen".
The argument erupted as Theresa May struggled to make progress with the EU in Brussels on Wednesday.
The Tory MP who led the calls for a meaningful vote demanded a "very rapid assurance" from the government that the Commons will be able to amend any potential Brexit deal.
What is the meaningful vote?
In June, the government's EU (Withdrawal) Bill was set to be defeated in the House of Commons by a group of Tory rebels.
They demanded Parliament get the final say on any deal brokered with Brussels – and have the power to send the UK's Brexit negotiators back to the table to try again.
Downing Street complained this would "bind" the prime minister's hands, and change the constitutional balance between government and Parliament in foreign policy and treaty matters.
But leader of the rebels, former Attorney General Dominic Grieve, said the "sovereignty of Parliament" had to be acknowledged.
A compromise was eventually reached – after assurances were accepted by would-be rebels that MPs would have a meaningful say. Both sides claimed victory.
What has Dominic Raab said?
In response to a letter from Tory MP Charles Walker, who chairs the Commons Procedure Committee, Mr Raab indicated the vote should be a simple Yes-or-No verdict on whatever deal was brought back.
"Anything other than a straightforward approval of the deal will bring with it huge uncertainty for business, consumers and citizens."
Is it deal or no-deal basically then?
Well, No 10 sources have insisted the Commons motion on any final Brexit deal would be amendable, but the BBC's political editor says it's possible the government might ask MPs to approve or reject a deal before they have a chance to amend it.
How have MPs reacted?
Mr Grieve has demanded a "very rapid" clarification from Downing Street, saying the Brexit secretary's letter was "completely incompatible" with what the government had told him in the summer.
Staunch Remainer Ken Clarke told BBC Newsnight the government "won't get away" with a "take it or leave it vote".
"Parliament is going to insist on using its proper authority," he added.
Fellow Conservative Anna Soubry urged MPs to "stand up to this outrage".
Labour MPs, too- are unhappy. Shadow Brexit secretary Sir Keir Starmer said: "That is not a meaningful vote. Ministers cannot silence Parliament."
He said MPs must be able to scrutinise and, where appropriate, change the text of anything presented to them.
Brexit: Row erupts over Commons 'meaningful vote'}