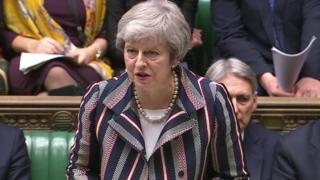 Theresa May and and Jeremy Corbyn have clashed in the Commons as the prime minister sought to make the case for her Brexit agreement to MPs.
The PM said Sunday's agreement honoured the 2016 referendum vote and maintained a close partnership with the EU.
But she admitted she was not "entirely happy" with the "backstop" contingency plan to avoid a hard border in Ireland.
The Labour leader said "ploughing on" with a deal opposed by the public and MPs was an "act of national self-harm".
He suggested Parliament would have "little choice" to reject the deal when MPs vote on it – expected to be in just over a fortnight's time.
Cabinet ministers have accepted that Mrs May faces an uphill struggle in persuading Parliament to accept the terms of the UK withdrawal and a political declaration on future relations.
In her statement to MPs, Mrs May said there had been "give and take" in the 19-month negotiations but the final agreement "delivered for the British people" by regaining control of laws, money and borders.
She acknowledged concerns over arrangements to avoid the return of physical checks on the border between Northern Ireland and the Republic of Ireland, which would see the UK entering a customs arrangement with the EU.
She insisted the backstop was an "insurance policy that no-one wants to use" and the UK would have the right to determine whether the temporary mechanism was invoked and a unilateral right to seek arbitration over how and when it would end.
She insisted "there is no deal that comes without a backstop and without a backstop there is no deal".
But the Labour leader said Mrs May had brought home a "botched deal that was a bad deal for the country" and that "ploughing on is not stoic, it is an act of national self-harm".
He said the prime minister needed a "plan B" involving a permanent customs arrangement and stronger employment and environmental protections.
Former Tory leader Iain Duncan Smith questioned why the backstop was in the withdrawal agreement at all, saying it would result in "intolerable pressure" being applied on the UK to avoid it.
And former Foreign Secretary Boris Johnson said it was "hard to see" how the deal could provide certainty to business when cabinet ministers were saying different things.
The SNP's Iain Blackford said the agreement was "full of ifs and buts" which would result in Scottish fishermen being "sold out" while the Lib Dem leader Sir Vince Cable called for another referendum.
And the DUP's Nigel Dodds said the backstop "was bad for union and bad for the economy" and greater certainty was needed over its legal application.
Brexit: Theresa May and Jeremy Corbyn clash over withdrawal deal}