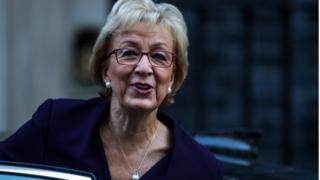 Any Brexit deal negotiated with the EU must not "trap" the UK in a customs arrangement it cannot choose to leave, Andrea Leadsom has told the BBC.
The Brexiteer minister urged Tories to back the PM and said she was "sticking in government" to work for a good deal.
But the UK must not be "held against its will" in any "backstop" aimed at avoiding a hard Irish border, she said.
On Friday, pro-Remain minister Jo Johnson quit the government and called for a new referendum on the final deal.
Asked if other ministers might resign, Commons Leader Mrs Leadsom told BBC 5 Live's Pienaar's Politics she was not expecting any, adding: "I do urge colleagues to support the prime minister.
"We are at a very difficult stage. What we have to do is hold our nerve and keep negotiating, make sure that we are pointing out to our EU friends and neighbours that it's in all of our interests to get a good deal and just get it over the line."
The government has not yet agreed a withdrawal deal with the European Union, ahead of the UK's exit from the bloc next March.
While the UK government says it is 95% agreed, they have been unable to agree on the mechanism for ensuring that there will be no return to border checks between Northern Ireland and the Irish Republic, if a future trade deal is not ready in time.
Earlier Shadow Foreign Secretary Emily Thornberry told the BBC "all options remain on the table", including another referendum, if a Brexit deal was voted down in the Commons.
Mrs Leadsom, who Theresa May beat to the Conservative leadership in 2016, said there would not be another referendum if MPs rejected the final withdrawal deal.
But she said she believed "most members of Parliament would vote for a deal rather than no deal".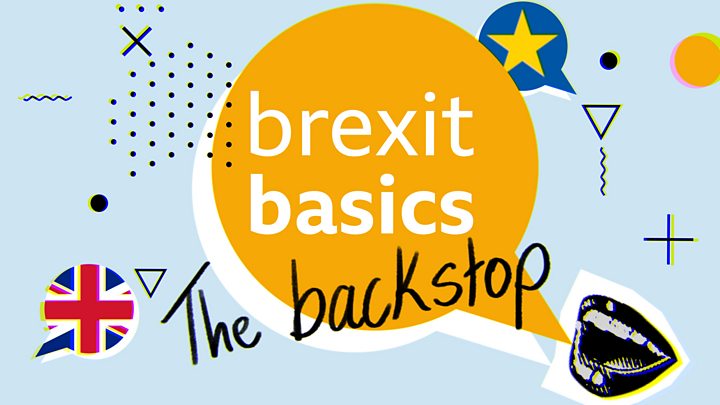 If sufficient progress is made on the "backstop" – a legally-binding mechanism for keeping an open border between Northern Ireland and the Republic of Ireland until the UK and EU agree their future relationship – it is thought a special cabinet meeting could be held next week for ministers to approve the draft agreement on the terms of the UK's exit.
One option is for the whole of the UK to remain temporarily aligned to the EU's customs union, avoiding the need for customs checks at the border until a free trade deal is ready.
But Leave campaigners want a clear exit strategy from any such arrangement – while the EU says any "backstop" must apply "unless and until" it is no longer needed.
---
Red lines
By BBC political correspondent Jessica Parker
MPs on all sides are readily setting out their conditions and caveats when it comes to a potential Brexit deal.
And while Andrea Leadsom made it clear that she still supports Prime Minister Theresa May, there was a hint too that she has her own red lines, saying that the UK must not end up trapped in an EU customs arrangement.
This plays into wider fears in some Conservative quarters that Theresa May could end up accepting a compromise too far on the "backstop" issue, in order to get a withdrawal agreement with the EU over the line.
---
Mrs Leadsom said while the backstop was not a "likely scenario" – as she believed a trade deal could be reached before it would be necessary – it must be "time limited" and "include the entire UK", rather than just Northern Ireland. And the UK must be able to decide to leave it – without the EU overturning that decision.
She added: "The UK cannot be forced to remain in a customs arrangement. Now how that specifically works is exactly what is being discussed and negotiated on now. The UK cannot be held against its will in a customs arrangement."
No-deal military planning
Asked what she would do if the final withdrawal deal did not meet her criteria, she said she did not want to "play games with what I might or might not do" as she was working hard to get a deal that honoured the 2016 referendum result.
Meanwhile, General Sir Nick Carter, chief of the defence staff, was asked on the BBC's Andrew Marr Show what the military might be called on to do, in the event the UK leaves the EU with no withdrawal deal in place.
He said: "At this stage I think people are confident there will be a deal, if there's not one, we stand ready to help in any way we can."
Defence minister Tobias Ellwood has told Sky News the government had to plan for every scenario adding: "There are contingency plans being made, there are discussions being held behind the scenes as to what support our armed forces will do."
Brexit is due to happen on 29 March 2019, as a result of the referendum in June 2016 in which people voted by 51.9% to 48.1% for the UK to leave the European Union.
If a Brexit deal is agreed between the UK and the EU, it then has to be approved by the House of Commons and the remaining EU member states.
Brexit: UK must not be trapped in backstop, says Leadsom}