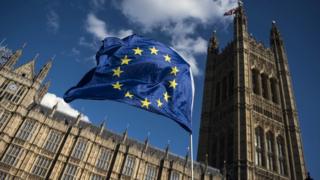 The UK government is to publish a White Paper outlining its future relationship with the EU ahead of June's key summit.
Next month's publication will extend to more than 100 pages and will involve reaching agreement with almost every government department.
A cabinet source told the BBC it would now "allow the UK to go and actually negotiate".
Before it can be finalised the cabinet is expected to agree the customs arrangements it wants to pursue.
BBC political editor Laura Kuenssberg said the Brexit Department had been pushing for the White Paper – a type of policy document – for some time, but was only able to secure agreement from Number 10 and the rest of the cabinet at a meeting earlier on Tuesday.
Brexit: UK to publish blueprint for future EU relations}