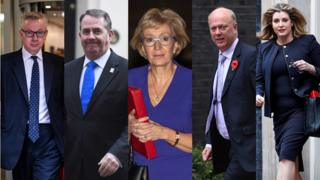 A group of five ministers in Theresa May's top team are hoping to persuade her to make changes to her draft Brexit deal, the BBC understands.
Leader of the Commons Andrea Leadsom is believed to be co-ordinating the group.
The five ministers include Michael Gove and Liam Fox – who on Friday publicly threw their support behind the PM – plus Penny Mordaunt and Chris Grayling.
Mrs May published her draft withdrawal agreement with the EU on Wednesday, and has vowed to "see it through".
The 585-page document sets out the terms of the UK's departure and includes details such as how much money will be paid to the EU, details of the transition period and citizens rights.
The deal prompted the start of a tumultuous few days for Mrs May, with two senior ministers and several other junior ministers and aides resigning.
Some Conservative Brexiteers who are unhappy with the agreement have also been submitting letters of no-confidence in Mrs May. If 48 letters are sent, then a vote will be triggered and she could face a challenge to her leadership.
Asked if she was prepared for a challenge, Conservative Party chairman Brandon Lewis said: "I think the prime minister is ready for anything."
Conservative MP Sir Alan Duncan urged fellow MPs to "stop and reflect", saying a leadership challenge was not going to get the country a better deal than Mrs May's.
"All it's likely to do is create chaos, break the government, break the party and leave the country in great disarray – and our loyalty, above all, has to be to the country."
On Friday evening, it emerged that Mrs Leadsom hopes to work with the four other ministers to change the draft withdrawal deal into something "winnable and supportable".
They specifically want to change the part regarding the Irish backstop – which has been one of the main sticking points in talks with Brussels.
Both sides want to avoid a hard Northern Ireland border so they agreed to put in place a "backstop" – or back-up plan – in case they cannot reach a long-term trade agreement which does this.
The backstop would mean that Northern Ireland would stay more closely aligned to some EU rules on things like food products and goods standards than the rest of the UK, which critics say is unacceptable.
The UK would not be able to leave the backstop without the EU's consent.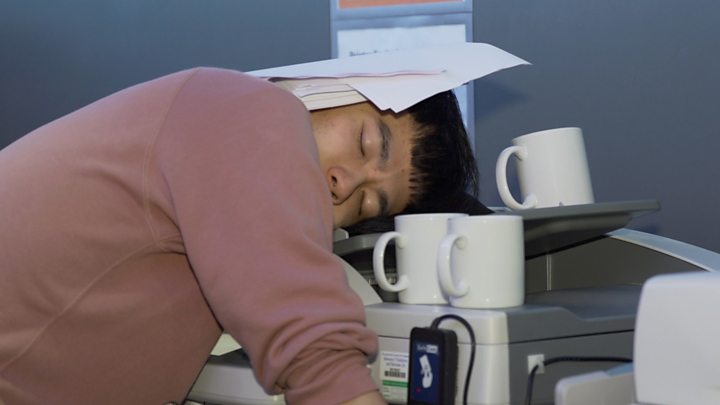 According to the BBC's political editor Laura Kuenssberg, the group of ministers want a change in the draft text to include the possibility of new technology or a free trade deal as alternative solutions to the Irish border issue.
The group's plans were described as a "work in progress", and a "last-ditch attempt to find something to put to the Commons".
Brandon Lewis, party chairman and a cabinet member, said it was right that colleagues across the cabinet would want to have their say.
He said he thought the five would be looking at the longer, future agreement with the EU.
A source said of Theresa May's deal: "Even if you don't mind it ideologically, you can't be fooled about getting it through the Commons."
The source suggested that if changes weren't made, resignations from Brexiteers still in the cabinet were "not off the table".
The deal is expected to be approved at a special EU summit on 25 November, before being voted on by MPs in Parliament.
Whisky for May
Meanwhile, the prime minister told the Daily Mail the withdrawal agreement was "not everybody's ideal deal" but said her job was to make "tough decisions" and "find a way through".
She also warned her opponents their alternative Brexit plans would not resolve the Irish backstop issue.
Commenting on the backlash to the deal, Mrs May acknowledged it had been "a pretty heavy couple of days".
She revealed her husband Philip, who she described as her "rock", had helped her through it – at one point pouring her a whisky and making beans on toast.
She added: "He does feel some of it (the hurt) himself – he's bound to. We've been married for 38 years, that's a long time."
On Friday night, Mrs May called dozens of constituency chairmen to appeal to them to back her deal and her leadership – and this weekend she is expected to embark on a "social media blitz" to try to sell her plans to people not usually engaged in politics.
New Brexit secretary
Mrs May's comments come after Stephen Barclay was picked as the new Brexit secretary – replacing Dominic Raab who quit on Thursday.
The MP for North East Cambridgeshire – who is a Leave supporter – has been a health minister since January.
A No 10 spokesman indicated that Mr Barclay, who becomes the third Brexit secretary since the role was created, would focus on domestic preparations for Brexit, rather than the negotiations.
Lord Ricketts, a former head of the Foreign Office, said the move "makes sense" and showed that the "experiment" of having a separate department – DExEU – had not worked.
"On an issue of this significance of course the prime minister is going to be in charge of negotiations and she'll want her top civil servants around her. It's right the PM should take this through," he told BBC Radio 4's Today programme.
In other developments:
The draft withdrawal agreement for Brexit that Mrs May agreed with her cabinet on Wednesday has been signed off by negotiators from both the UK and EU.
Brexiteers seek to shift May on EU deal