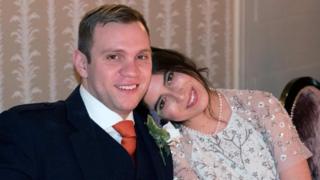 A British PhD student has been sentenced to life in prison after being found guilty of spying in the United Arab Emirates (UAE).
Matthew Hedges, a 31-year-old academic at Durham University, said he was conducting a research trip when he was arrested on 5 May at Dubai airport.
A court in Abu Dhabi has declared him guilty of "spying for or on behalf of" the UK government.
Mr Hedges has consistently denied any wrongdoing.
Foreign Secretary Jeremy Hunt said he was "deeply shocked and disappointed" by the verdict and said it would have "repercussions for the relationship between our two countries".
The BBC's Middle East Correspondent Paul Blake said foreign media were barred from the hearing earlier and the sentence was revealed by the family.
A family spokesman said the hearing "lasted less than five minutes and his lawyer was not present".
He is said to be in a poor state of mental health, the BBC understands, and his wife Daniela Tejada has previously criticised the lack of treatment he received in prison.
Briton Matthew Hedges jailed for life on UAE spy charge}