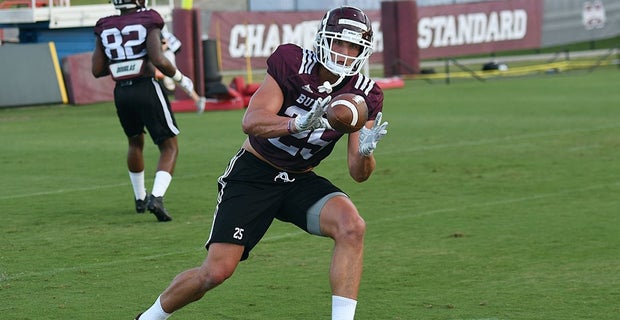 Mississippi State began the third week of 2019 spring football practices with a two-hour Tuesday session. It was the fifth overall working day of spring, and this time in full pads.
Those pads will be necessary by Thursday's closed-to-media practice where the real contact can begin. That day will also be part of a coaching clinic to coincide with the session. Saturday brings the first of two spring scrimmages, which are also closed to the public.
Thursday's practice closing benefits a press corps that will have some members leaving for or already at the Portland Regional. The rest of the crew will be at the opening game of Mississippi State's annual series with Louisiana State.
The Notebook is shorter than usual as only four periods were open for observation today.
*The rehab crew had a new member for Tuesday. WR Stephen Guidry was making metaphorical miles on the exer-bike when practices began in the limited-yellow shirt. Once team periods began he joined the receivers group to observe since he was not in practice gear.
S C.J. Morgan has been also officially limited so far in camp but is practicing with the second and sometimes first safety rotations in drills all the same as he competes for a starting job with fellow veterans Brian Cole and Jaquarius Landrews.
The only red jersey so far is worn by spring-enrolled freshman DE Ani Izuchukwu, out for the entire camp recovering from a high school injury but working with strength staff just the same.
*With Guidry out of Tuesday action WR Devonta Jason moved to the top of the X receiver list, though he had been splitting a lot of first-team turns already. Jason made the kind of catch that earns starting status though. On one 20-yard route between hashes and sideline he had to adjust to QB Keytaon Thompson's high throw.
Jason turned, stopped, somehow elevated enough to one-hand stab the ball and bring it down as well; then land already turning to go back upfield.
The other Xs are Cameron Gardner and Lee Tanner. At the Z receiver position Osirus Mitchell is established, backed by Jordon Hoyer and Vincent Taylor.
*Deddrick Thomas and Austin Williams continue to lead the slot receiver rotations. Now after limited snaps last week Malik Dear is back in the mix more noticeably, taking the third turn in drills today.
*The Diamond Dogs were preparing for their Tuesday home game against Mississippi Valley State while football practiced. TE Brad Cumbest was not going to make batting practice this time, as he was busy running routes and making blocks at the same time. Cumbest is running, depending on day and lineup, fourth or fifth tight end in this camp. On the diamond now he has established himself as a pinch hitter and even got a start at designated hitter in the Auburn series with good results at the plate.
Farrod Green is set as the #1 tight end followed by Dontea Jones, Geor'quarius Spivey, and Powers Warren.
*Safeties coach/coordinator Bob Shoop had his top two rotations doing an interesting coverage drill. Instead of pairs of safeties by strong/free or such, both the top-two at either position practiced together.
So one of the reserves safeties would run a route and both the pair would make the same sorts of synchronized steps in coverage. The pairs were Marcus Murphy and Morgan to one side; then a combination from among Jaquarius Landrews, Landon Guidry, or Londyn Craft to the other.
The best 'receiver' they covered? Easily, it was first-team safety Brian Cole who looked plenty comfortable running the pretend routes. More so maybe than some of the scholarship guys who are practicing at receiver, come to think of it. Cole is being a bit limited in early camp but not to the point of wearing yellow.
*He can't practice with them any more. But it was understandable if eyes on the sidelines and even on the field kept turning to the figure of Montez Sweat as he strolled between the fields.
Sweat and a goodly number of graduated Bulldogs will be participating, to varying degrees, in tomorrow's Pro Day in the Palmeiro Center.