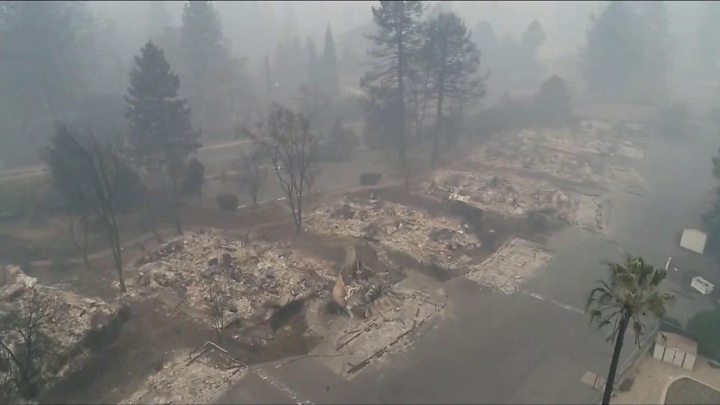 The number of people missing in northern California's devastating wildfire has leapt to more than 600, and seven more bodies have been found, according to local authorities.
The missing persons' list has doubled since earlier on Thursday.
Camp Fire, the state's deadliest and most destructive blaze, has killed at least 63 people. Nearly 12,000 buildings have been destroyed.
Three more people have died in the Woolsey Fire, further south.
Butte County Sheriff Kory Honea said rescue workers had been dealing with "extraordinary" levels of "chaos", which had made it hard to pin down the number of missing.
President Donald Trump will travel to California on Saturday to survey the damage and meet those affected.
About 9,400 firefighters are currently battling wildfires across the state.
The Camp Fire – which broke out eight days ago – swept through a swathe of the north at high speed, fanned by the wind, leaving residents little time to escape.
The California Fire Department says it has now contained about 40% of the blaze.
"We continue to engage in the fire fight. We continue to keep our eye on the ball," chief fire department official Ken Pimlott said.
California wildfires: Number of missing leaps to 631