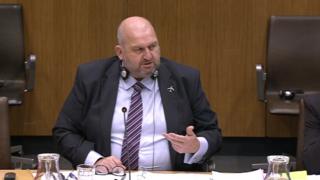 A sacked Welsh Government minister found dead at his home last year left a letter telling his family "I have failed you", an inquest has heard.
Labour AM Carl Sargeant, 49, was found hanged four days after First Minister Carwyn Jones dismissed him as communities and children secretary.
The father-of-two faced allegations of inappropriate behaviour towards women, a claim he denied.
He wrote: "You deserve none of this adverse publicity 'cause of my acts."
Mr Sargeant had been suspended from the Welsh Labour party prior to his death on 7 November 2017.
Coroner John Gittins has previously said the provisional cause of death was hanging in "an apparent act of self harm".
Mr Sargeant's letter, read to the inquest on Monday, said: "To Bernie, Lucy, Jack and family/friends. I have let you down badly. You deserve none of this adverse publicity 'cause of my acts. I have failed you.
"That aside, I love you more than you'll ever know and I'm sorry I have taken the easy way out, leaving you with my shit. Please forgive me. I love you, Carl/Dad."
The court later heard from former Welsh Government minister Leighton Andrews, who told the inquest Carwyn Jones's behaviour was irresponsible following Mr Sargeant's sacking.
Mr Andrews said Mr Jones gave media interviews on the Monday following a cabinet reshuffle on Friday 3 November 2017, which had a "significant impact" on Mr Sargeant's state of mind.
Mr Andrews said the first minister had been "speculating" during the interviews, although he did not elaborate further.
The inquest also heard details of a text message sent from Mr Andrews to Mr Jones on the evening of the reshuffle.
Under questioning by the first minister's counsel Cathy McGahey, Mr Andrews agreed he had written phrases quoted from the text including "great to see new faces promoted…it's a great reshuffle" and that it must have been an "immensely difficult conversation to have had with Carl".
Before hearing evidence from Mr Andrews, the coroner told him the inquest was not about blame or fault.
He thanked him for his previously-submitted statement, but warned him there may be elements within it that fell outside this investigation.
At the start of the inquest, Mr Gittins said there was no room in his court room for speculation or accusation, adding: "This will not be a trial by press, politics or personality."
He read a statement from Pc Siwan Hughes, who was called to Mr Sargeant's home in Connah's Quay, Flintshire, after his body was found in a utility room by his wife Bernadette.
The police officer was told by Mrs Sargeant she had found a note on the door of the utility room telling her not to go in and to call the police.
The letter to his family was left next to his body.
The court heard there were traces of anti-depressants in his blood, but not enough to be a contributory factor to his death.
'Low in mood'
Giving evidence, Mr Sargeant's GP Dr David Morris said the late politician had been in good general health, apart from being "a big fella", but had presented with symptoms of depression in March 2012, the first of several episodes.
The doctor said Mr Sargeant had described himself as "low in mood", suffering from disturbed sleep and "weepiness", and had also told him: "It feels like what I think post-traumatic stress might be." This was due to an illness of another family member.
He was prescribed a course of fluoxetine medication after being diagnosed with "moderately severe depression".
He had a short course of sleeping tablets in 2014 and in July 2016 was put back on fluoxetine, which notes show he feared to stop taking. Later that year he scored one on a scale used to determine whether he had considered self-harming, which was at the lower end.
He was prescribed a different anti-depressant and by November was feeling better, with improved sleep.
The drugs were repeated throughout much of 2017, with the last prescription in the October of that year.
Cathy McGahey QC, representing the first minister, asked whether some people suffering depression were able to function in their working lives, to which Dr Morris said they were.
Questioned by Leslie Thomas QC, for the Sargeant family, the doctor also agreed some people did not function well at work with depression.
Mr Thomas pointed out Mr Sargeant was last seen by a medical practitioner almost a year before his death.
He asked what would be the impact on people who used work as an outlet for their depression if that work was going badly and an individual no longer had that outlet.
Dr Morris said: "A negative one."
The first minister is due to appear at the five-day inquest in Ruthin in Denbighshire on Wednesday, while Mr Sargeant's cabinet colleagues, Lesley Griffiths and Ken Skates, will also give evidence.
The inquest is set to hear from Mr Sargeant's son Jack, who succeeded him as the AM for Alyn and Deeside.
Mr Sargeant was facing a party investigation into claims about inappropriate personal conduct with women and was suspended from the Welsh Labour Party prior to his death.
His family said he was not told the details of what he was accused of and was unable to properly defend himself.
An independent investigation into how Mr Jones handled Mr Sargeant's sacking will begin in the new year.
Earlier this month, the High Court gave the family permission to challenge the format of a separate investigation into how his sacking was handled, with his wife saying she feared the probe would be a "cover-up".
Who was Carl Sargeant?
Mr Sargeant had been a Welsh Government minister for eight years before his sacking in November last year.
The former environmental auditor and industrial firefighter had been a Welsh Assembly member since 2003.
Mr Sargeant was appointed Labour's chief whip and deputy minister for assembly business following the 2007 election.
He was promoted to the cabinet in 2009 as minister for social justice and local government, then served as housing and natural resources minister before being appointed communities secretary in May 2016.
Mr Sargeant helped drive legislation to tackle domestic violence and led the Welsh Government's response to the Grenfell Tower fire, promising Welsh high-rise blocks were as safe as they could be.
Key moments around Carl Sargeant's death
3 November 2017: Mr Sargeant is sacked as Welsh minister and suspended from the Labour Party pending an inquiry into allegations about his conduct.
7 November: Mr Sargeant is found dead at his home in Connah's Quay in Flintshire.
10 November: Wales' first minister orders an inquiry into how he handled Mr Sargeant's sacking.
13 November: An inquest gives a provisional cause of death.
1 December: The funeral service for Carl Sargeant takes place in Connah's Quay with Labour leader Jeremy Corbyn among the mourners.
6 February 2018: Jack Sargeant succeeds his father as Alyn and Deeside AM.
Information and advice
If you or someone you know is struggling with issues raised by this story, find support through BBC Action Line .
Carl Sargeant told family 'I failed you', inquest hears}