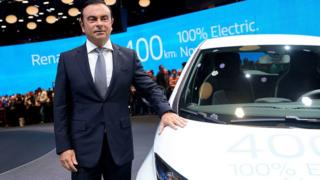 Nissan and Mitsubishi shares have slumped in early Tokyo trade, after the arrest of chairman Carlos Ghosn.
He is accused of under-reporting his income by 5bn yen ($44.4m; £34.5m) over five years, prosecutors said. He is also said to have used company assets for personal purposes.
Mr Ghosn heads up the Japanese-French alliance Renault-Nissan-Mitsubishi.
Both Nissan and Mitsubishi have said they are preparing to remove him from his posts.
Shares in Nissan were down about 4% by midday, Mitsubishi was also down more than 7%. Renault's shares lost more than than 8% in Europe.
In a late night press conference on Monday, Nissan said an internal investigation prompted by a whistleblower had revealed "significant acts of misconduct".
Nissan Chief Executive Hiroto Saikawa said "too much authority was given to one person in terms of governance," speaking at the Yokohama headquarters of the firm.
"I have to say that this is a dark side of the Ghosn era which lasted for a long time," Mr Hiroto said adding he was still thinking through whether Mr Ghosn was "a charismatic figure or a tyrant".
The announcement sent shockwaves through the automotive industry where Mr Ghosn, 64, is seen as titan, responsible for a dramatic turnaround at Nissan in the early 2000s.
Future uncertain
Prosecutors later said in a statement that Mr Ghosn and Representative Director Greg Kelly conspired to understate Mr Ghosn's compensation starting in 2010.
Mr Ghosn is accused of filing annual securities reports containing fake statements, which could mean up to 10 years in prison, or a fine of 10m yen, or both.
There has been no comment from Mr Ghosn or Mr Kelly.
Japanese prosecutors also said they had already raided Nissan's Yokohama headquarters, near Tokyo, as part of their investigation.
Last year the Renault-Nissan-Mitsubishi alliance said it sold 10.61 million passenger cars and light commercial vehicles, making it the number-one automotive group worldwide.
The board of Renault is also expected to meet to decide Mr Ghosn's future.
Carlos Ghosn: Nissan and Mitsubishi shares slump after chairman's arrest}