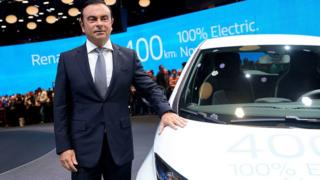 Nissan shares have slumped by 6% in early Tokyo trade, after the arrest of the firm's chairman Carlos Ghosn.
He is accused of under-reporting his income by 5bn yen ($44.4m; £34.5m) over five years, Japanese prosecutors said.
He is also said to have used company assets for personal purposes.
On Monday, Mr Ghosn's own firm said an internal investigation prompted by a whistleblower had revealed "significant acts of misconduct".
Nissan is the world's sixth-largest carmaker and its site in Sunderland is the UK's biggest car plant. Mr Ghosn also heads up the Japanese-French alliance Renault-Nissan-Mitsubishi.
He is expected to be fired from Nissan after a board meeting on Thursday. The boards of Mitsubishi and Renault were also meeting this week to discuss Mr Ghosn's future, according to reports.
Shares in Mitsubishi were also down more than 7% in early Tokyo trade, while Renault's shares lost more than than 8% in Europe.
Carlos Ghosn: Nissan shares slump after chairman's arrest}