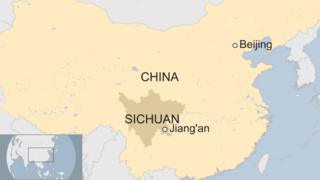 An explosion at an industrial park in China's Sichuan province has left 19 people dead and 12 others injured, according to state news agency Xinhua.
In a statement quoted by Reuters, the authorities in Jiang'an county said the blast happened at a chemical plant run by Yibin Hengda Technology.
Photos on Chinese social media showed a huge fire and plumes of smoke rising from the facility.
It is not clear what caused the explosion.
It follows previous high-profile disasters at chemical plants in China.
In 2015, 173 people died in an explosion in a chemical warehouse in the north-eastern port city of Tianjin.
China industrial park explosion kills 19