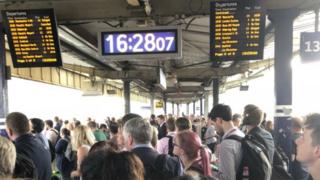 The transport secretary says the "rail industry has collectively failed" passengers after timetable changes caused chaos across the network.
Chris Grayling wrote to MPs over the "wholly unsatisfactory" service on Govia Thameslink Railway and Northern.
GTR said it expected disruption to ease "over the coming month" and Northern said it has commissioned a report to "ensure lessons are learned".
Mr Grayling said: "The way timetabling is done has to change."
The transport secretary also criticised Network Rail, saying it "cannot cope" with the workload, and its performance was "simply unacceptable".
He added: "We were aware there might be some disruption in the early stages of any new timetable change but the scale of the problem has far outstripped any expectation."
He said he was now in "regular contact" with Network Rail and rail companies to deal with the issues quickly.
But a Surrey rail user group earlier blamed the Department for Transport (DfT) for rail problems.
GTR runs Thameslink, Southern, Great Northern and the Gatwick Express, while Northern runs services across North of England from Newcastle to Nottingham and in Greater Manchester, Yorkshire, Cumbria and Merseyside.
Stephen Trigg, of the Reigate, Redhill and District Rail Users Association, said: "Thameslink is just failing all over the place.
"This morning six out of 12 trains have disappeared from the timetable. That's before any cancellations. How do people get to work?"
Ros Southward, who set up the Hitchin Rail Commuters Group, said there was constant "stress and disruption" on the Great Northern line.
"[I'm] beyond words, I don't get it because this is supposed to have been planned for a couple of years," she said.
Many services across the country suffered "Meltdown Monday" on 21 May when new timetables came into force.
The shake-up started on 20 May and saw every train time on each GTR operation change, affecting an estimated half a million commuters.
Meanwhile, Greater Manchester mayor Andy Burnham first called for an investigation into Northern's "unacceptably poor" service on 16 May.
Mr Burnham, and Liverpool City Region mayor Steve Rotheram, raised their concerns with Mr Grayling in a call.
Northern agreed to publish an action plan with "clear dates and milestones" for improvements so the company can be held to account.
The mayors said Northern should lose its franchise if improvements are not made.
There could also be an eight-week closure of Northern's Lakes Line, it has emerged.
Bolton North East MP Sir David Crausby has secured a debate on Northern services in Greater Manchester in Parliament on 6 June.Rail industry 'has failed passengers'
Some passengers arriving back at Hitchin station in Hertfordshire on Tuesday night told the BBC they were facing disciplinary action for being late to work, while one said he had lost his job because of all the delays and cancellations.
Graphic designer Emma James tweeted she was eight months pregnant and had to "stand for ages on platforms" and was late to work on a daily basis.
Elizabeth Dennis, Labour councillor for Hitchin Walsworth, said the situation on the Great Northern line was "beyond shambolic", while commuter Amanda Croft said the "chaos was particularly difficult for passengers with disabilities".
However, Mr Trigg said he also blamed Mr Grayling and his department.
"Everyone I speak to from the train company is working extremely long hours trying to sort the problems out – but there's not enough of them," he said.
"The bid was put in with a very slim-line management team and that bid won, because that's what the DfT wanted – a cheap bid.
"They need to put the money into the network."
A GTR spokesman said: "We apologise to passengers for the continued disruption linked to the introduction of the new timetable.
"We are working on a recovery plan with rail industry partners."
Northern has been approached for comment.
A Network Rail spokesman said: "Late timetables have certainly not helped the recent events but there are many other factors across the industry involved and we are looking at understanding the root cause so that future changes can be implemented more smoothly."
Chris Grayling says rail industry 'has failed passengers'}