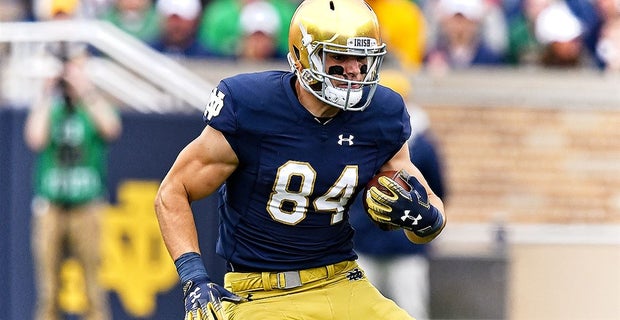 Touched by the football gods with the size and athletic ability coveted by anyone with aspirations of playing tight end on the collegiate and professional level, Notre Dame sophomore Cole Kmet will put his baseball-pitching prowess aside for the rest of the spring and focus strictly on his development on the gridiron.
Irish Illustrated learned of Kmet's decision over the weekend shortly after the 6-foot-5½, 255-pounder out of Lake Barrington, Ill. made an unofficial nine receptions during 1-on-1/7-on-7/11-on-11 action Saturday in Notre Dame's sixth spring practice.
The left-handed throwing Kmet last pitched for the Irish in an 8-7 extra-inning victory at Wake Forest on March 10. He pitched in eight games this spring, starting one, with a 2.89 earned run average, two saves and a 0-2 record.
A source told Irish Illustrated that Kmet experienced some left elbow soreness and decided to shut it down for the balance of the spring. The elbow soreness obviously hasn't negatively impacted his performance on the football field, as evidenced by Saturday's pass-catching clinic.
Kmet hasn't ruled out returning to the baseball diamond for the Irish next spring. He was invited to play in the prestigious Cape Cod baseball summer league this summer, but will not participate.
Kmet caught 15 passes for 162 yards during his sophomore year in 2018 after making two grabs during his freshman season.
Irish fans may recall an incomplete deep ball thrown by Kmet in the Jan. 1, 2018 Citrus Bowl against LSU in an attempt to take advantage of his throwing prowess. He went on to pitch in 26 games as a freshman in '18, finishing with a 5.05 earned run average, a 2-5 record and eight saves.
After striking out 39 and walking 25 in 46 1/3 innings in '18, his strikeout-to-walk ratio this spring was an impressive 27-to-3 in 18 2/3 innings.
The source told Irish Illustrated Kmet is "all in for football" and didn't want his elbow issue to spill over to the football field or to deter from his and the team's goal of winning a national championship this fall.
Kmet and Brock Wright are expected to form a formidable one-two punch at tight end for the Irish in '19.