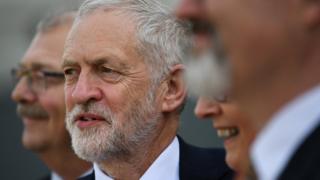 Labour leader Jeremy Corbyn has been meeting business leaders in Londonderry about their concerns over Brexit before a visit to the border area.
The visit to the north west is part of his first trip to Northern Ireland as Labour leader.
He began his visit on Thursday with a speech at Queen's University Belfast.
Mr Corbyn told the BBC that he would take a neutral position on a border poll if he was prime minister.
He also said he would not support a deal that includes a return to a hard border.
The UK and EU have agreed that there will be no hard border, but are at odds on how to achieve that.
A major sticking point is what arrangement will be put in place if the border cannot be solved in an overall deal.
The two sides accept the need for a 'backstop' but differ on how it should work.
Mr Corbyn suggested on Thursday that Labour's proposal for a new comprehensive EU-UK customs union has the potential to prevent communities in Northern Ireland being divided.
On Friday morning, Mr Corbyn spoke to business leaders at a breakfast event in Derry.
The event was hosted by the city's chamber of commerce.
The president of the chamber, Jennifer McKeever, said that Mr Corbyn was welcomed to "the city at the heart of the Brexit conundrum".
She said that businesses in the area were being "hugely resilient and pragmatic" about the Brexit challenges ahead but that "patience was wearing thin" two years after the EU referendum.
It is expected that Mr Corbyn will face questions on Labour's proposed customs union and future access to the single market.
Later on Friday morning, he will visit the border area between Strabane in County Tyrone and Lifford in County Donegal.
He will then return to Belfast for a number of private engagements.
Corbyn in north west NI for border visit}