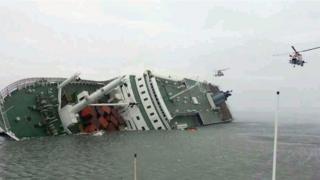 A South Korean court has ruled the government has to pay compensation for the victims of the Sewol ferry disaster.
It is the first time a court has acknowledged the state is liable for the deaths.
The Sewol sank in 2014 killing 304 people, most of them school children.
Some relatives of the victims had turned down an earlier offer of compensation, insisting the state's responsibility had to be proven.
"The court acknowledges the liability in compensating the plaintiffs, since the negligence by the state and Cheonghaejin Marine Co. has resulted in the occurrence of the accident," the court said on Thursday, Yonhap news agency reported.
The court awarded 200m won ($177,000, £135,000) in compensation for each passenger who died. Parents of the students who lost their lives in the tragedy will receive a further 40 million won.
Siblings and grandparents are to get smaller sums in compensation.
Investigators said the vessel was structurally unsound, overloaded and travelling too fast.
It capsized while crossing to the island of Jeju on 16 April 2014.
In 2015, the government offered to pay $380,000 (£256.000; €353,000) in compensation for each of the nearly 250 students who died.
Many of the families rejected that offer as it would have meant an end to the investigations into the case.
The tragedy shocked the country, with much of the public's anger directed at the government over poor safety standards and rescue work.
The boat's captain has been jailed for 36 years for gross negligence.
Authorities raised the Sewol in March 2017 – and came under fire again when they incorrectly declared they had found human remains.
Sewol victims
325 students aged between 16 and 17 from Danwon High School, south of Seoul, were on a school trip to the holiday island of Jeju when the ferry sank
Only about 70 survived – many had obeyed orders to stay put as the ferry listed
Some of the survivors later testified that they had to float out of cabins and most of the crew members did not attempt to help them
At least three crew members died trying to evacuate passengers.
Court rules South Korea must pay for Sewol victims}