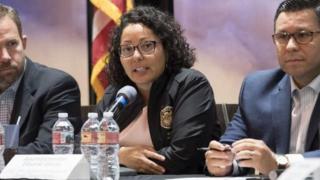 A California lawmaker who rose to prominence in the #MeToo movement has been ordered to take sexual harassment and sensitivity training.
A number of male former staff members had accused Cristina Garcia of inappropriate conduct.
An investigation could not substantiate the serious allegations against her, but said she had "engaged in a pattern of behaviour that must be addressed".
Ms Garcia has previously denied any wrongdoing.
One of her accusers, Daniel Fierro, has said he may appeal against the decision to clear her.
Mr Fierro, a former staffer, accused Ms Garcia of groping him when she was drunk during a softball game in 2014. Another man said he was fired by Ms Garcia after refusing to take part in a kissing game.
The investigation found that Ms Garcia had "commonly and pervasively" used vulgar language, used staff to run personal errands and "disparaged other elected officials".
She responded by saying: "I want to assure everyone that I have learned from this experience and will do everything in my power to make amends for my past."
"I know that I can only effectively serve my constituents if staff and my colleagues feel comfortable and respected on the job. That is the climate I pledge to build and sustain," she added.
Ms Garcia, a Democrat lawmaker, took a strong stance during the #MeToo movement, telling the New York Times that senior lawmakers and lobbyists in the state capital had "grabbed my butt and grabbed my breasts".
She was later featured in Time Magazine's feature on "silence breakers" who spoke out against sexual harassment during the movement, and was a prominent critic of two male lawmakers in California who later stood down as a result of allegations of misconduct against them.
Read more about the global #MeToo movement
As a result of the inquiry into her conduct, Ms Garcia will also be removed from all committees she serves on when she returns from a voluntary leave of absence.
Cristina Garcia: California lawmaker cleared of harassment