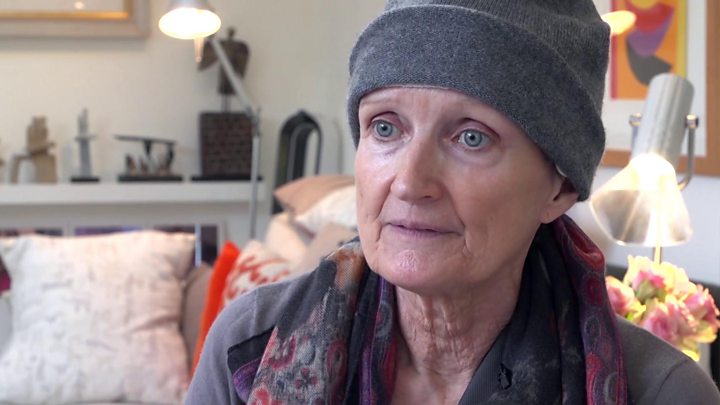 Former Labour cabinet minister Dame Tessa Jowell has died aged 70, her family has said.
Dame Tessa, who was diagnosed with brain cancer in May last year, suffered a haemorrhage on Friday, and had been in a coma until her death on Saturday.
She played a major role in securing the 2012 Olympics for London when she served as culture secretary.
In recent months she campaigned for more cancer treatments to be made available through the NHS.
She earned a minute-long standing ovation in the House of Lords in January for speaking about the issue.
"In the end, what gives a life meaning is not only how it is lived, but how it draws to a close," she said during her speech.
"I hope that this debate will give hope to other cancer patients, like me, so we can live well together with cancer, not just dying with it. All of us, for longer."
Leading the tributes to Dame Tessa, former prime minister Tony Blair said she had "passion, determination and simple human decency in greater measure than any person I have ever known".
'An inspiration'
A statement from her family said it was "with great sadness, and an enormous sense of loss" that they announce the news of her death.
She died peacefully at the family home near Shipston-on-Stour in Warwickshire shortly after 22:00 BST on Saturday, the statement said.
"Her husband David and their children Jessie and Matthew were by her side, with Jessie's husband Finn, Matthew's wife Ella, and David's children from his first marriage.
"In addition to chemotherapy and radiotherapy, in recent months doctors tried innovative new treatments which Tessa gladly embraced, but sadly the tumour recently progressed very quickly."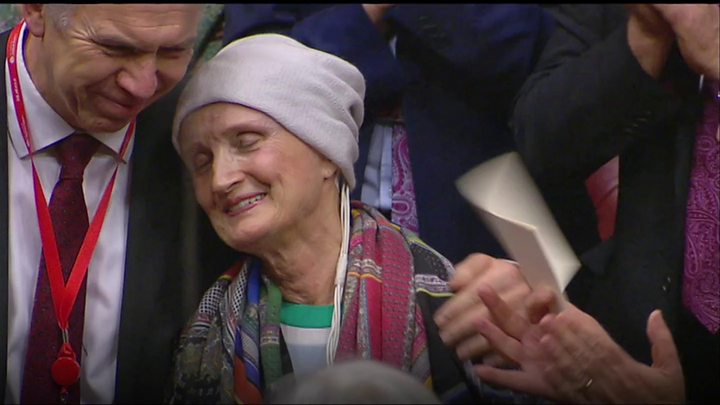 The statement thanked people for the "overwhelming support" Dame Tessa and her family had received since she became ill.
A small private funeral will be held "in the coming days" and a memorial service "open to all" at a later date.
Mr Blair said Dame Tessa was "an inspiration to work with, and a joy to be near".
"She was the most wise of counsellors, the most loyal and supportive of colleagues, and the best of friends," he said.
Prime Minister Theresa May said the dignity and courage with which Dame Tessa confronted her illness was "humbling" and "inspirational", and her campaigning was a "lasting tribute to a lifetime of public service".
Lord Sebastian Coe, president of the IAAF and former chairman of the London organising committee of the Olympic Games, said London 2012 would not have happened without Dame Tessa.
"She showed unflinching tenacity in persuading the prime minister and the cabinet that the government should throw its full weight behind the bid," he said.
Four-time gold medal winning rower Sir Matthew Pinsent also paid tribute to Dame Tessa's determination to bring the Olympic Games to London.
And former prime minister Gordon Brown said Dame Tessa would be remembered for her "courage, strength and compassion for others".
His successor David Cameron said he was "devastated" to hear of the death of the "dedicated and passionate campaigner" and "wonderful human being".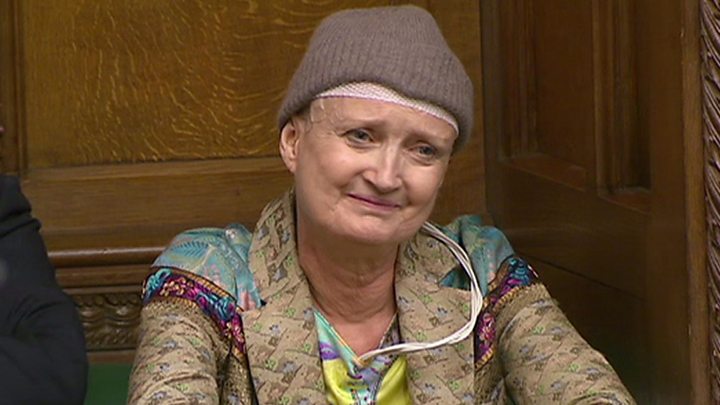 Alastair Campbell, former Labour director of communications and godfather to Dame Tessa's children, said: "She really is the best of politics, the best of humanity, and as Tony Blair said this morning, there really aren't many like her."
He called her a "positive life force who never stopped smiling".
Former acting leader of the Labour Party Harriet Harman said Dame Tessa was "clear and tough", a woman who "followed her personal instinct" and "nurtured personal relationships".
'Committed to her cause'
Tessa Jowell once said she'd "jump under a bus" for Tony Blair. She was probably only half-joking. However, her loyalty to New Labour was more than simply tactical or careerist.
She was pro-European and in favour of a mixed-economy when both were deeply unfashionable on the left. Her belief that Labour should "modernise" was passionately held – forged at the coal face of a decade of Labour local activism.
Dame Tessa will be remembered at Westminster as someone who managed to be ideologically committed to her cause without overt sectarian bitterness.
Dame Tessa, a former social worker, first stood for Parliament in a 1978 by-election in Ilford North on the Essex-London border. She lost to her Conservative rival and was defeated again the following year.
She made it to Westminster in 1992, as MP for Dulwich and West Norwood. In 1997, she was one of the 101 female Labour MPs on the benches following the party's landslide victory.
Dame Tessa was employment minister and minister for women, before joining the cabinet as culture secretary in 2001, during which she helped bring the Olympic Games to London.
In 2012 she was made Dame Tessa Jowell in the Birthday Honours for political and charitable services. After stepping down from the Commons at the 2015 general election, she was made Baroness Jowell of Brixton.
Dame Tessa Jowell dies aged 70}