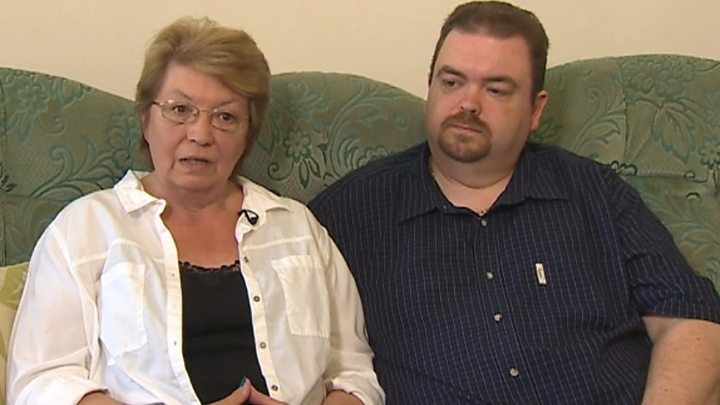 A woman who took her 93-year-old father to die at a Dignitas facility in Switzerland says she is prepared to go to jail over assisted suicide.
Sandra Holmes, 66, from Llanrwst, Conwy, and her son Scott, took John Lenton to die last October, knowing they could be breaking the law.
She said her father asked her in the spring to accompany him to die abroad.
Ms Holmes says she and Scott, 40, are waiting to see if they will face criminal charges.
Police confirmed in January that they had launched an investigation into the death.
Asked if she is prepared to go to prison, she said: "Yes, if it came to that. We both knew that we might actually have to do that. I don't think for one minute it will come to that, but yes, if we have to."
Ms Holmes said she has no regrets about the action she and Scott took, adding: "We're waiting for the CPS to decide whether to prosecute. The police are waiting for the CPS to decide. Nobody can do anything until that happens."
Scott Holmes also said he was prepared to go to prison "if we have to."
"We gave him the release he wanted, so we can't possibly regret that," he added.
Ms Holmes said the trip had taken seven months to plan, costing about £15,000.
She said she did not coerce her father – a WWII veteran from Newport – in any way, and several times gave him options to change his mind, even booking a return ticket for him from Switzerland.
She is now calling for a change in the law for people like her father who choose to die.
"I believe it's every individual's choice to decide what they want to do," she said.
"That was dad's choice and therefore what we were doing was right for him. It may not be right for somebody else, but it was right for him, and I never had any doubt.
"I don't believe that anyone should be prosecuted for humanely helping someone who has made their own decision on this.
"If we had a pet in this country, a dog, that was in the condition my dad was in, we would be accused of cruelty for keeping the dog alive. Yet, in this country, we allow human beings to be kept in those conditions. And for that reason, the law has to change."
Daughter 'would go to prison' over father's Dignitas death