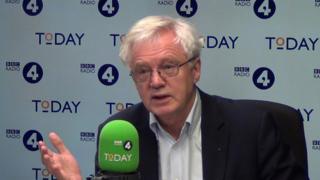 Theresa May will probably lose a Commons vote on her Brexit deal, former Brexit Secretary David Davis has said.
But Mr Davis – who quit his cabinet role over the Brexit plan in July – said he believed defeat would prompt the UK and EU to agree a "better deal".
He also said the UK had hundreds of plans ready in case the country leaves the EU without any agreed Brexit deal.
Mr Davis said there might be "some hiccups" but the UK was "a big country" and "we can look after ourselves".
Brexit is due to happen on 29 March 2019, as a result of the referendum in June 2016 in which people voted by 51.9% to 48.1% for the UK to leave the European Union.
Although 95% of a Brexit deal is said to be agreed, the UK and the EU have yet to agree on how to guarantee that there will be no return to a visible border between Northern Ireland and the Republic of Ireland in future.
Both sides agreed to put in place a "backstop", also referred to as an insurance policy, that would only be triggered if a future trade deal is not in place by the end of 2020 – or if this final deal does not ensure a "frictionless" border.
This is because there have been warnings that a return of visible border checks could undermine the peace process in Northern Ireland, as well as damaging businesses operating on both sides.
One option for the backstop is for the whole of the UK to remain temporarily aligned to the EU's customs union, avoiding the need for customs checks at the border.
But how long this would last, and how the arrangement could be terminated, has not yet been settled. The government is under pressure from some Tories, as well as Labour, to publish the precise legal advice about how the arrangement would work.
'Not acceptable'
If a Brexit deal is agreed between the UK and the EU, it then has to be approved by the House of Commons and the 27 remaining EU member states.
Mr Davis told BBC Radio 4's Today programme that defeat in the Commons for the current plan was "looking like a probability", especially if MPs were not shown the full legal advice on the Irish border backstop plan.
He said MPs needed to see the "complete legal advice, not a summary" before voting on such a crucial issue.
Mr Davis added: "Are we going to have to wait until the Irish government says it's OK to leave? If so, that's not acceptable.
"Are we going to have to wait until it's convenient for the (European) Commission to say when we leave? If so, it's not acceptable.
"I suspect that they have not pinned down any of these issues and they need to be pinned down before Parliament votes."
David Davis: MPs will 'probably' vote against Brexit deal}