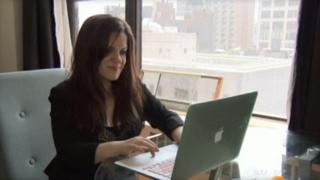 A woman in New York is being sued by her former doctor after she posted negative reviews about his gynaecology practice on the internet.
Michelle Levine says she has already had to pay $20,000 (£15,000) in legal fees to fight the million-dollar case.
The lawsuit arose out of a visit last August to Dr Joon Song, in which Ms Levine says she was improperly billed.
She has been accused of defamation, libel and causing emotional distress with her negative comments.
"At first, I was in disbelief," Ms Levine, 36, told WABC-TV in New York, after she was sued for $1m in damages.
"That's not defamatory. Everything I wrote is true," she added.
In her review – which was posted to Yelp, Zocdoc and Healthgrades – the Manhattanite complains of "very poor and crooked" business practices at the doctor's office.
"And I gave them one star on Facebook, which they also put in their complaint," Ms Levine told CBS, adding that her private medical records were included in publicly-available court documents as well.
In a since-deleted review after her August 2017 visit, she wrote: "I suspect that this doctor gives unnecessary procedure [sic] to a lot of people and then charges the insurance sky high prices and no one knows the difference."
Ms Levine wrote that, despite visiting the office for an annual review, she was billed for an ultrasound that she claims she did not need.
On their Yelp page, the doctor's office claims that the ultrasound is given to all new patients due to its ability to detect potentially serious medical conditions.
A lawyer for Dr Song said in a statement to US media: "While everyone is entitled to their opinion, outright lies masquerading as reviews can inflict serious damage to a medical practice or small business."
"Just because you are allowed to and are able to doesn't mean that you should do so without reservations about what you say," added lawyer Areva Martin.
"Your First Amendment right doesn't give you the right to defame someone."
A call by BBC News to Dr Song's office was not immediately returned on Wednesday.
In court, his lawyers cite his Yale training to refute Ms Levine's alleged experience.
A spokesperson for Yelp told ABC News it was "rare for businesses to sue their customers", adding that the company "always said that litigation is not a good substitute for customer service".
Doctor sues ex-patient for $1m over negative Yelp review